How many of you use heating tools to style your hair? Almost everyone. Don't you?
We all tend to use heating machines for hair to get an attractive party or stylish look. And no doubt you can't skip this one as well. After all, these tools are totally game changers and every girl's best friend.
But you should also keep in mind that using these tools without any protection can cause damaged hair too. Haven't you heard? "Precaution is Better than Cure".
Heat protection spray is a must before using any heating machine on your beautiful hair.
So no hesitation to use any styling tool when the best hair protection spray is in your hand.
Confused to choose the best option for you? Fret not. We have got the list ready. Check them out.
Ktein Natural Hair Heat Protection Spray
Built with the natural ingredient Ktein natural heat protection spray is one of the best heat protection serums. Enriched with vitamins and nutrients this spray helps to maintain your hair in a healthy way. It provides moisturizer that promotes silky band frizz-free hair.
The natural ingredients such as rice water base, flaxseeds, grapeseeds, and aloe vera in this serum protect your hair and help to manage the elasticity of hair that strengthens them.
Pros-
Free from harmful chemicals, alcohol, parabens, and sulfates.
This is a 100 % vegan and cruelty-free product.
Can be used as both a pre and post-styling product.
Budget-friendly
Helps to keep hair healthy, smooth, and silky.
L'Oreal Paris Studio Pro Heat It Hot & Straight Spray
If you are a straight hair lover then try this heat protection spray for straightening hair.
L'Oreal Paris studio pro heat and straight hair is the ultimate choice to style your hair. It protects your hair and helps you to style it without any fear of damaged hair.
Pros-
Gives long-lasting shine and smooth finishing.
Works best for hair prone to flyaways.
Designed for use with hairdryers and straighteners with up to 230 degrees C  heat protection. 
Gives your hair a perfectly straight look that you can flaunt anywhere.
So no more flyaways. Explore the styles each day.
Tresemme Keratin Smooth Heat Protection Spray for Hair
Get the best heat protection hair spray at home with this beauty. Unhealthy, rough, and dull hair is a problem for each one nowadays. In the era of trying different hairstyles, we all go after using heating tools frequently. And that leads to split ends and hair breakage. Infused with Marula oil Tresemme keratin smooth heat protection spray makes your hair anti-frizzy.
Pros-
This serum has 5 benefits in 1 system. such as fighting frizzy hair, giving protection, making hair smooth and glossy, removing flyaways, and boosting shine.
Helps to secure your hair from heat up to 450f so you can style your hair with full protection from heat with no worry. So what are you waiting for? Make the best out of it.
Read More:
Is Glycerin Good for Hair? Its Benefits, Side Effects, and Usages
Looking for a Right Shampoo? Here Are the Top Picks for Your Dry Scalp
Tired With the Oily Scalp? Here Is the Causes, Remedies and Effects
Vellasio Classic Heat Protection Spray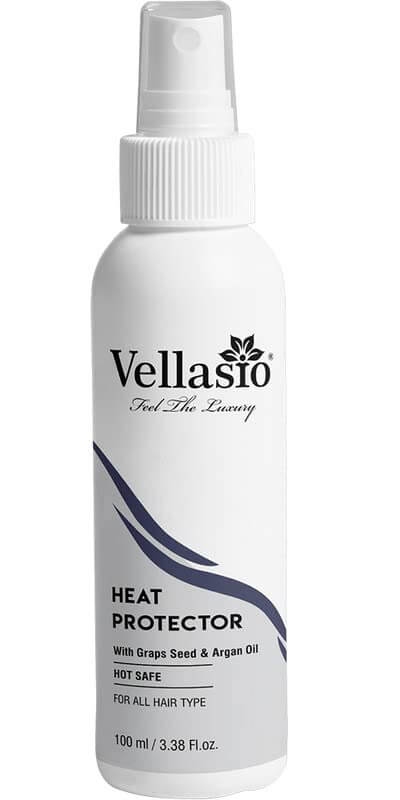 If you are looking for some natural and anti-frizz heat protectant spray then this can be your choice. Made with Phenolic, Argan Oil, Grapeseed oil, and Vitamin E this hair spray helps to improve your scalp health. Vellasio Classic Heat Protection Spray protects you from all the heat and sun damage. It fights freezy hair and flyaways.
Pros-
The grapeseed oil in it is beneficial to restore the natural shine and vibrancy of hair.
Leaves hair smooth and straight for up to 3 days.
Shields your hair from heating tools up to 230 degrees C.
Best for all types of hair
Maintain the natural shine
Pocket friendly with the best qualities.
BBlunt Hot Shot Heat Protection Mist
When it comes to choosing heat protection one must go according to their hair type. Heat spray plays a vital role in styling your hair. BBlunt hot shot protection mist is specially made for Indian hair textures.
Pros-
Free from chemicals like paraben, sulfate, and SLS.
Full protection from heat damage.
Secure your hair from heat up to 230 degrees C
Makes your hair soft and split ends free.
Got Indian hair? Then must check out this heat protection spray in India.
De Vivre Hair Heat Protection Spray & Serum Combo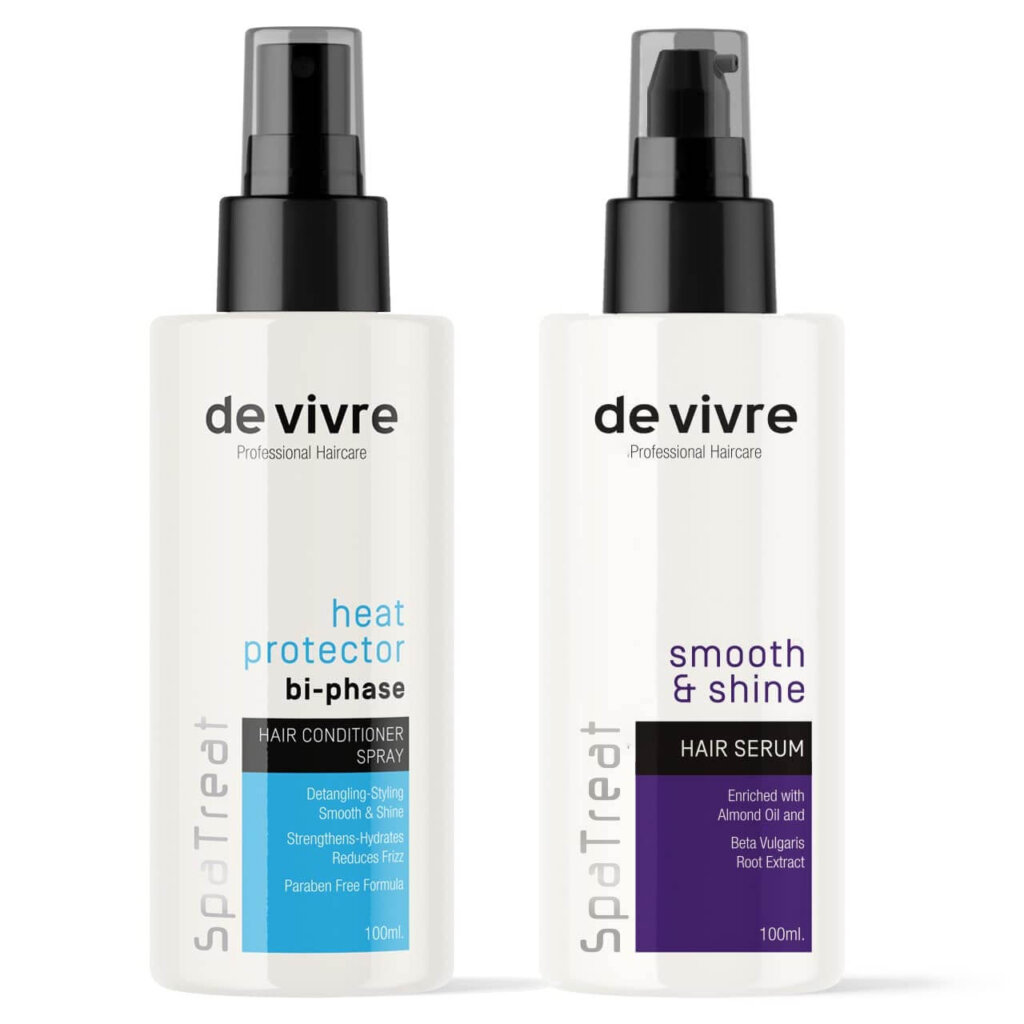 Tired of dull and rough hair? Get yourself this heat protection spray made in India. This product comes with a combo of serum and heat spray. Best for smooth and shiny hair. Filled with natural bamboo extracts and wheat protein that provides nourishment to the scalp.
Pros
Quite a safe-to-use and chemical-free product.
Best to use for hair straightening.
No heat damage and easy to use.
Appropriate to use in all weather.
Frizz control
Safe to use for daily purposes
Streax Walnut Serum
Constant use of styling products and heating tools only leads to unhealthy and weak hair. Streax Walnut Serum helps to restore your frizzy and dull hair. With the nourishment of walnut oil, this serum makes your hair shiny and smooth instantly
This is also beneficial to use before using the straightening machine on your hair. Get rid of hair styling problems by using this Streax serum also known as Streax heat protection spray.
Pros-
Long-lasting shine and soft touch of hair
Built with high-quality products.
Natural and organic product
Works as both serum and heat protractor spray
Tames flyaways.
Read More:
Best Keratin Treatment Products You Should Check Out
Top 5 Least Damaging Hair Bleach Brands
5 Things You Should Know To Take The Best Care Of Damp Hair
Final words
For every hair type, there are different heat protection sprays available in the market. Heat protectant sprays are the cherry on the cake that makes it easy for styling your hair the way you want. The more healthy your hair will be the more beautiful your hairstyle will be. So the first thing to make sure of is to take the best care of your hair.
This protectant spray helps to decrease the side effects of using heating tools frequently. So you must always keep one in your bag. Always choose the best quality product as getting a cheap one can cost you more.
Which heat protection spray is your favorite? Let us know in the comment section.