Every one of us has a special love for our hair. Whether, in our day-to-day life, professional space, any festival, or any special event like marriage, we tend to pay special heed to our hairdo for our appearance.
For different hairstyles, we use a lot of hair accessories including artistic clips, butterflies, hair bands, and whatnot! Not just females, but males too.
So, why not add something natural and more elegant to your hairstyle to give you an attractive and unique look? How about using that pink rose or little gypsy flower in your curls? Just imagine that look! Awesome.
Here we are, with some beautiful real flower hairstyles for a simple yet amazing look.
Real Flowers for Hairstyle
No matter what the occasion is, flowers add more colors to our happiness. You can use any of these in your hairstyle-
1. Rose:
Roses are easily available in your nearby areas and that too in a variety of colors. You can choose them in contrast with your outfit. Some flower hairstyles with roses are-
Bouquet Bun
Messy Flower Bun
Braids with Roses
2. Baby's Breath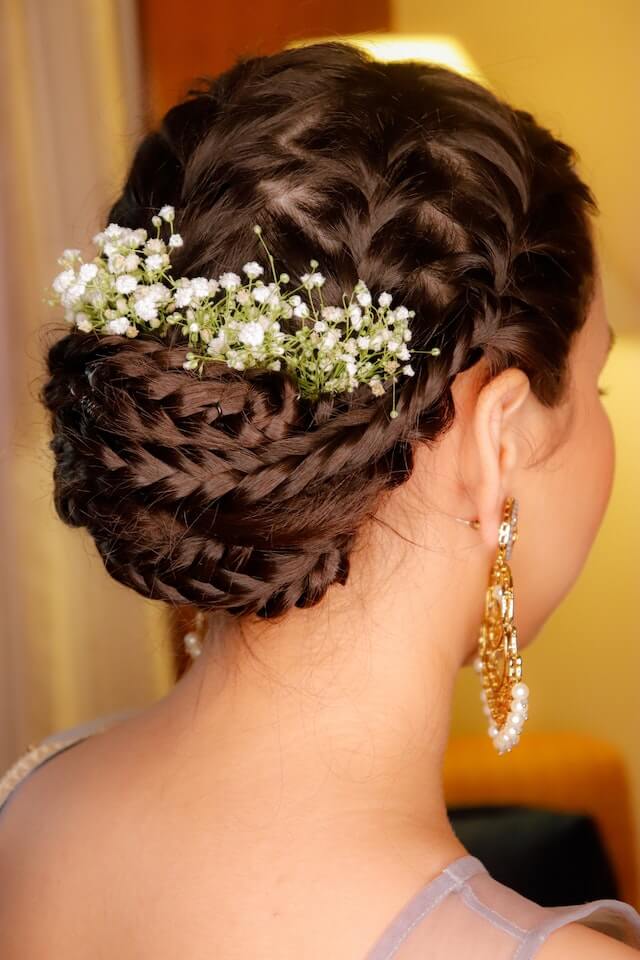 These tiny flowers give a simple yet refreshing bridal look. They are easy to use due to their size. Moreover, they can be used with flowers like roses, daisies, etc. You can use baby's breath flowers as-
A floral crown with roses
Tucked in a french braid
Crescent moon formation style
Outlining the hairline etc.
3. Pansies
Pansies are one of the prettiest flowers that come in attractive colors like purple, magenta, etc., and can be best used on the occasion of mehndi, haldi, and sangeet.
4. Jasmine
How can these refreshing flowers be overlooked when it comes to wedding bells? Commonly called mogra, these tiny babies add a traditional look to your dressing. You can swirl it in a bun or braids just as in ancient times or you can do a number of experiments like a net cover bun, crown style, etc. They are appealing in every design.
5. Orchids
One might think orchids could be used in bouquets only, but try them in your flower hairstyle and see the magic look!
Tricks for Perfect Flower Hairstyle
To enjoy the graceful look of real flowers' hairstyles, it is necessary that they are styled in a proper manner and pinned accurately.
Here are some steps one must follow for a flawless flowers hairstyle look-
Flower Choice: Make sure you are choosing flowers that have sturdy stems and strong petals that survive the event till the end. To add more natural touch, you can use some leaves as well.
Bobby Pins: Use bobby pins carefully to set the flowers in the hairs. Also, use hairspray for its sustainability. Try avoiding the use of spray directly on flowers as it can result in dullness.
Flower Pampering: Placing the cut flowers in water and refrigerating them overnight before their use makes the flower buds look fresh and cool.
Use of Serum: For a bouncy, smooth, and shining look, mix a drop of serum with mousse(hair foam for bounce) and comb hairs with a round brush for clear smooth hairs.
You can buy these flowers in your nearby areas or you can order the same on real flower delivery sites like 'My Flower Tree', 'FNP' etc., and have a stunning hairstyle for your special day!
Read More:
Famous Juda Hairstyle for Saree You Should Not Miss
Simple Hairstyle for Saree
7 Best Keratin Treatment Products in India That Are Formaldehyde-Free
Top 5 Least Damaging Hair Bleach Brands
5 Things You Should Know To Take The Best Care Of Damp Hair
FAQ
1. How to do hair with flowers?
Ans. Cut the flower stem to two to three centimeters and slide them through the bobby pins. Set it with other pins to secure the bobby pin.
2. How do you use fake hair flowers?
Ans. Fake flowers come in different designs. Set them with bobby pins according to the hairstyle you are making.