Have you considered getting a drastic hair makeover for the past few days?
This blog will guide you through the bleaching process without causing much damage to your hair or burning a hole in your pocket.
This guide will take you through various affordable but least damaging hair bleach brands. So, why wait?
Let's make the bleaching a non-stressful process.
What Is Hair Bleaching?
From the early roman empire to each and every corner of the world, bleaching had become a trend. But what exactly is hair bleaching?
It is a method of hair lightening prominently for cosmetic purposes using bleaching agents. The most common bleaching agents for hair are hydrogen peroxide and persulfate salt. But certain agents, like sulfuric acid, wood ash, and hypochlorite bleach, were also used during the historical period. Hair can also undergo bleached unintentionally through sun exposure.
Process Of Hair Bleaching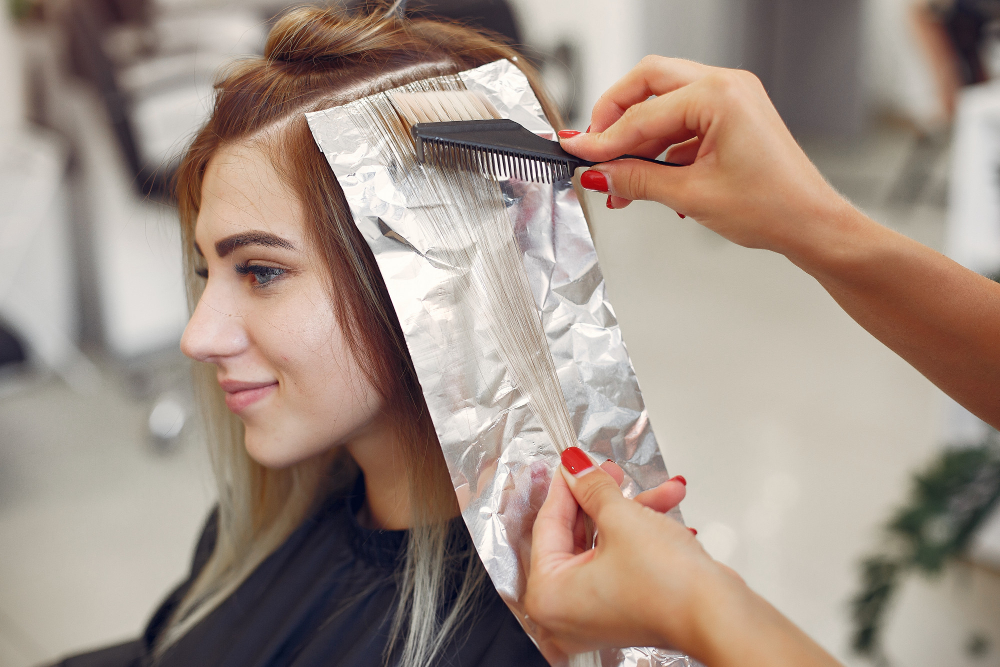 1.Use of Bleaching Agents
The pigment Melanin determines the colour of your hair. While we apply bleaching agents like hydrogen peroxide, it breaks down the melanin through oxidation. When melanin is oxidised, it releases oxygen gas. If you bleach hair at home, it usually contains 6% hydrogen peroxide, but in parlours, it consists of over 9 % hydrogen peroxide.
2. Toner
Toning is a practice done after bleaching to mask undesirable yellow and orange hues on brassy hair. The colour of toner varies according to bleached hair. For example, a violet toner dye will be needed to remove the yellow tones, but to neutralise red and orange hues, a green and blue toner would be more suitable.
Tinted shampoos can also be used to tone hair.
Things To Keep In Mind Before Hair Bleaching
When the hair becomes more porous, it absorbs maximum moisture and becomes a task to keep it hydrated. So, after bleaching, hair should be deep conditioned.
If bleach is done incorrectly, the scalp or even the neck portion can get burned. You may use vaseline on hairlines only after a patch test to survive or lessen the effect.
Don't wash your hair before bleaching. Plan your hair wash 2-3 days prior. Apply a little protective oil to create lubrication that will reduce hair damage.
If hair is prone to damage or porous, it is better to keep it hydrated by using a hydrator or moisturiser before two weeks of bleaching.
It is better to undergo protein treatment after bleaching to keep it strong and healthy.
Tips To Choose An Appropriate Hair Bleach
Choose the right developer:
The developer is an activator for bleach. The excess intensity of it can damage the hair. Choose a developer that is lower in volume.
It is better to do hair bleaching at salons. You will get the efficient service of professionals. But in case if you are planning to do it at home, refer to this blog which will provide five less damaging hair bleaching products.
Use high-quality products:
It's better to use natural and organic bleaches. It contains less ammonia, and those colours will last for less time.
Top 5 Hair Bleaching Products That Are Less Damaging
| | |
| --- | --- |
| pros | cons |
| Safe to use on scalp and cause less damage and irritation | Can make your hair more dry and frizzy |
| Lighten hair upto 7 shades | Requires extra 40 volume developer |
| Reasonably priced | |
| | |
| --- | --- |
| Pros | Cons |
| Lighten hair upto 5 shades. | It will not be suitable for the one who need intense colour. |
| It is PETA certified which means it is cruelty free. | One box will not be enough if you are planning to colour whole hair. |
| Affordable price rate. | |
| Developer and bleaching agents included. | |
| | |
| | |
| --- | --- |
| Pros | Cons |
| Lightens with no irritation. | You have apply more rounds to get a pale shade. |
| Infused with moisturising aloe. | |
| Best for sensitive skin. | |
| Comes with a mixing cup. | |
| | |
| --- | --- |
| Pros | Cons |
| Helps to lighten hair to 8 shades. | No negative review so far. |
| Contains nourishing pro – vitamin B5 | |
| Leaves hair hydrated and smooth | |
| Can be used with or without developers. | |
| | |
| --- | --- |
| Pros | Cons |
| Gets result in less than 1 hour. | Not so good packaging. |
| Lighten hair upto 7 shades. | |
| Can be mix with any developer. | |
| Prevents uneven brassy tones. | |
Read More:
Tired With the Oily Scalp? Here Is the Causes, Remedies and Effects
Fed up With an Itchy Dry Scalp? Here Is the Causes, Treatments, and Prevention
Dry Hair in Men: 8 Main Factors That Are Responsible for Dry Hair in Men

9 Different Methods by Which Dry Hair in Men Can Be Prevented
7 Best Keratin Treatment Products in India That Are Formaldehyde-Free
Wrapping Up
The information provided in the blog is for the people who wishes to lighten their hair. But the reality is that theres'nt any bleach that is completely free from damage except organic bleaches. But it won't last long and can be beyond our budget. Proper treatment and hair care after bleach can prevent such damage to some extent. So, at the end its your choice to provide a makeover or not!!!!!