Ever wondered what makes your favorite celebrity's hair look straight, freeze-free, and silky?
Or someday your eyes might have caught glimpse of girls with beautiful smooth hair while roaming outside. Your eyes must have stuck at their flaunting hair for a few seconds for sure. Haven't they?
To your surprise, even you can get that secret recipe in your hands. Yes, keratine treatment is the answer to all your hair problams.
Keratin treatment is one of the best discoveries in the beauty industry until now.
Rich in protein keratin already exist in our hair but due to pollution sun exposure or using chemicals our hair starts losing its nourishment. Here keratin plays a vital part by giving back protein and nourishment to the hair.
Having trouble choosing the best professional keratin treatment products? Bother not! We have prepared a list of professional keratin treatment products just for you. Explore your style.
Best Products For a Keratin Treatment
Kerafill Keratin Treatment Reconstructor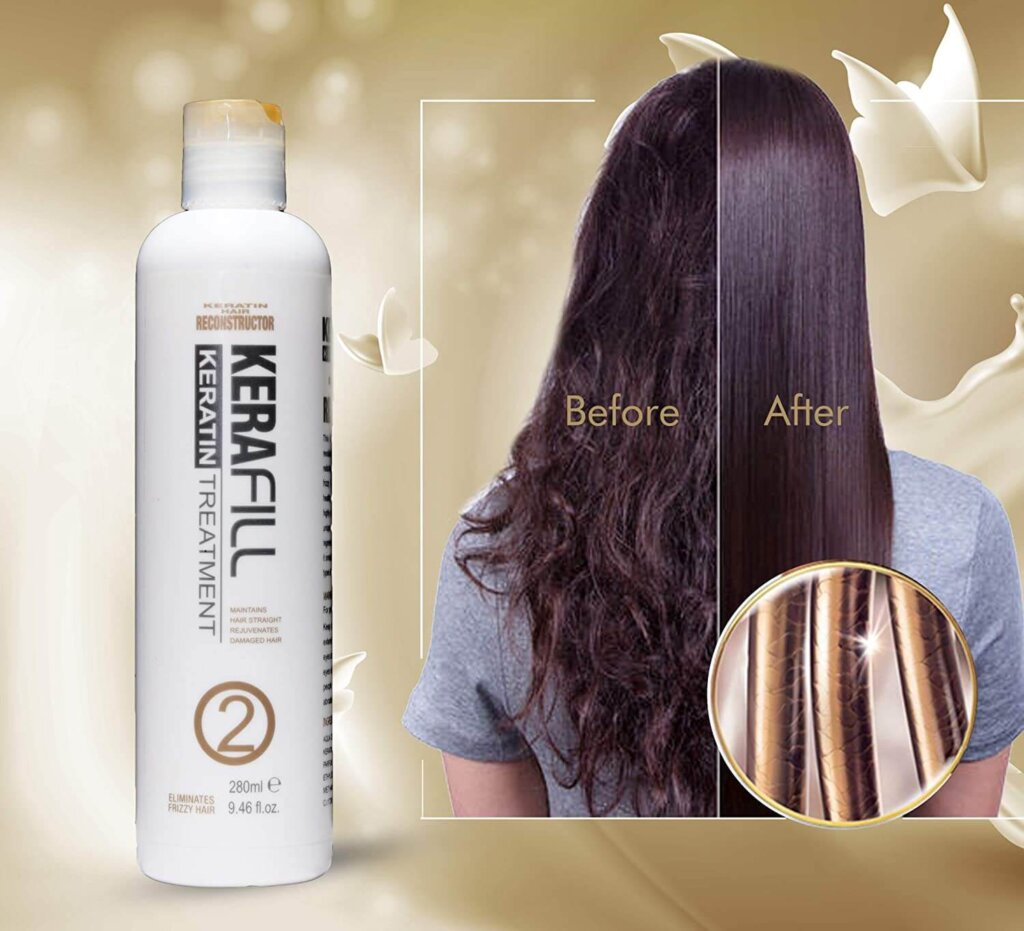 Fed up with frizzy, damaged hair? Then this Brazilian keratin treatment product is just made for your hair issue. This product cleans without dehydrating your scalp and helps to remove all microbes and pollutants.
The best thing about using keratine is that it provides your hair with a good amount of protein that is essential for healthy hair. Repairs your damaged hair and rebuild the hair shaft. The innovative brightened and UV protection element gives your hair full protection as well.
So if you are looking for having smooth and naturally straight hair, don't skip this one.
TRESemmé Expert Selection Shine Serum, Keratin Smooth
Having Beautiful and healthy hair not only makes you happy but also adds charm to your personality. According to research people with healthy and silky hair get more attention. And keratine treatment makes this dream come true without any worry.
TRESemmé Keratin Smooth Shine Serum is one of the best options for your hair.
This product is formulated with keratine and marula oil that helps you to get silky smooth hair. You will get 5 benefits in 1 product. Wanna know what? Here they are-
It helps your hair to fight frizzy hair
It Detangles knots and makes your hair manageable.
Boosts shine to your hair and give them a glossy look
It adds softness and silkiness.
Tames your flyaways easily.
The best part about this professional keratin treatment product is that you don't have to worry about your budget as it's quite affordable and pocket friendly. It creates the glossy look of a professional blow-dry style. What else one can ask for?
So what are you waiting for? Pamper your hair with the excellent touch of TRESemmé Keratin Smooth shine serum.
Nexxus Keraphix Gel Treatment
When it comes to hair care one must always go with professional and trustworthy keratin products. Nexxus Keraphix gel treatment gives your hair complete nourishment and repairs damaged hair. This is infused with an exclusive PROTEINFUSION blend with keratine and black rice treatment that helps your hair get proteins that decrease due to pollution and overuse chemicals.
It is clinically proven for damage repair. The Nexxus keraphix healing system gives you a saloon experience at home. It is completely safe and great for all hair types.
This keratine product contains 0.67 oz treatment.
Can be used for color and chemically treated hair. Style your healthy hair just in a simple way.
What keratin products do salons use?
Peter Coppola Smoothing Treatment
This product has won the heart with its super amazing results. The advanced healing formula of this keratine treatment helps to repair and rebuild dry and rough hair. Enriched with a low-pH mechanism this product is beneficial for providing your hair with good health and smooth shine.This is formaldehyde- free and Aldehyde-free.
PROS:
Peter Coppola smoothing treatment is a professional keratine treatment kit. It comes with 6 amazing items-
A smoothening treatment
Clarifying shampoo to clean your hair properly
A blow-out spray
Tint brush
Wide-toothed comb and
A bowl.
GK hair resistant treatment
Who doesn't love frizz-free and manageable hair? GK hair-resistant professional keratin treatment is the best choice for all saloon owners. Filled with juvexin and enriched with high protein this product helps in preventing premature aging. The natural ingredients in this treatment hydrate and provide moisturizer to the hair.
The benefit of using this product is that it lasts for 4-6 months. So no flyaways and dry hair for a long time period.GK hair resistant treatment is famous worldwide and loved by all hairstyle experts.
It is advised to use GK hair moisturizing shampoo and conditioner for aftercare and the resistant treatment.
How can I keratin my hair at home?
No time to vising the saloon for hair treatment? Here we are for your concern. To make your hair smooth and shiny, you can also try some best keratin products at home.
There are so many trustworthy and best keratin treatment products available in the market. You can choose according to your budget and preference. Make sure to follow the instruction well to have the best results. Just follow a few steps-
Wah your hair with the best keratin shampoo to avoid dust and oily scalp.
Dry them with the help of a towel and start applying keratin treatment at the tip of your hair. Massage slowly.
Leave the product for 30 to 40 minutes.
Rince your afterward properly and blow dry your hair.
Don't wash your hair for the next 48 hours to let the treatment work properly on your hair.
The next step is to wash your hair with good shampoo and conditioner and enjoy your silky smooth hair.
Read More:
Tired With the Oily Scalp? Here Is the Causes, Remedies and Effects
Top 5  Least Damaging Hair Bleach Brands
5 Things You Should Know To Take The Best Care Of Damp Hair
Looking for a Right Shampoo? Here Are the Top Picks for Your Dry Scalp
Is Glycerin Good for Hair? Its Benefits, Side Effects, and Usages
Is keratin harmful to hair?
Every coin has two sides. If there are pros you will find cons as well. Keratin treatment is considered the best hair treatment all over the world for making hair healthy and glossy.
But the overuse of this treatment can also damage and make them weak also.
The harsh chemicals in keratin treatment can be dangerous and cause reactions so better to choose a trustworthy professional keratin treatment product and must take expert advice before having it by your side. not advised to have it more than thrice a year.