We all are concerned about our hair. But only some of us are satisfied with the style and texture of our hair. Some aspire to curly hair, while some are fascinated by straight hair. But what's more important is to have healthy hair, whether it is curly or straight.
To keep your hair smooth and healthy, you need to use more natural ingredients instead of chemical products.
Nanoplastia hair treatment is one such hair treatment that contains naturally extracted ingredients to restore damaged hair and smoothen your hair. Let's understand nanoplastia hair treatment and how it differs from other procedures, such as Keratin treatment.
Nanoplastia Hair Treatment: A Brief
Nanoplastia is an organic hair treatment. It is a procedure applied to the hair at the cellular level, restoring and strengthening the damaged hair. It is majorly a composite of Collagen and amino acids.
Collagen works as an antioxidant and improves hair texture whereas amino acids result in increased keratin (a protein that forms hair, nails, etc.).
Procedure and Side Effects
It is a two to three-hour procedure. Here is how it goes:
Firstly, hair is washed for cleansing the scalp, and hair strands that might be covered with any kind of oil or dust surfacing.
Blow dry the hair properly.
Make sections and divide the hair into equal small portions.
Treat the portions separately and leave them for two to three hours.
Wash, rinse hair and blow dry again properly.
Now straighten the hair.
Isn't it a simple way to pamper your hair naturally? Indeed.
When we talk about the nanoplastia hair treatment side effects, there are hardly any. The reason is that the nanoplastia hair treatment is done with natural elements like natural amino acids, collagen protein, and natural oils. It is also free from toxic formaldehyde. Hence, it does not damage the hair, instead, it improves the damaged hair and nourishes them, resulting in strong and shiny hair. Still, it is recommended to test on a small portion of hair before treatment as everyone has a different skin type and is prone to different allergic reactions.
Nanoplastia Hair Treatment Products
Some of the commonly used natural nanoplastia hair treatment products are-
There are many other products that you can choose from in your nearby salon. Nanoplastia hair treatment products are totally natural products and hair friendly.
Cost of Nanoplastia Hair Treatment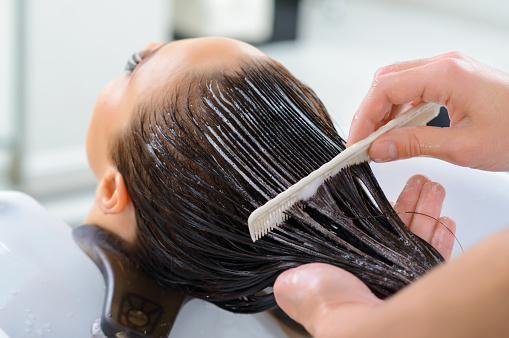 For frizz-free, smooth, damage-free, and silky hair, one can adopt the nanoplastia hair treatment. The approximate cost is Rs.5,000-Rs.10,000, depending on the salon, city, and locality.
But this is worth spending the amount. It lasts almost four to eight months and straightens the hair by approximately 90%.
Nanoplastia Hair Treatment at Home
Can this procedure be done at home? Will it be as effective as done by salon professionals? Well yes. Nanoplastia hair treatment can be carried out at home as well by following the above-mentioned procedure. But make sure that you follow the instructions mentioned on the product and apply it for the required time. And do not forget to test it first on a small portion of hair.
Read More:
Tired With the Oily Scalp? Here Is the Causes, Remedies and Effects
Top 5  Least Damaging Hair Bleach Brands
5 Things You Should Know To Take The Best Care Of Damp Hair
Looking for a Right Shampoo? Here Are the Top Picks for Your Dry Scalp
Is Glycerin Good for Hair? Its Benefits, Side Effects, and Usages
Nanoplastia Hair Treatment vs Keratin
Both of these treatments look the same, but the results are far different. Let us know how:
Keratin treatment works on the outer hair surface only, whereas the Nanoplastia treatment repairs the damaged hair from the roots, inside out.
Keratin is filled with toxic chemicals like formaldehyde. On the other hand, nanoplastia is an organic procedure with natural ingredients like collagen and amino acids.
You need to take extra care for Keratin Treatment (lasts for 3-4 months), but nanoplastia doesn't require any such extra care. (lasts for 4-8 months).
Now you know what nanoplastia hair treatment is, how it is useful in damaged and frizzy hair, and how you can overcome hair problems with it. So, get your favorite Nanoplastia hair treatment product and enjoy the most beautiful hair you always wish for!