Blemishes are a type of defect that appears on your skin as a mark, discolouration, spot or any type of superficial flaw. Normally they are harmless, but they will distress you if they are developed on your face. Do you know which types of blemishes are harmful and when it is the right time to consult your doctor? Read this blog completely and you can find answers to some of your questions.
When to see your doctor?
Not all blemishes are serious. It may irritate you when it reaches a chronic condition. There are blemishes caused by viruses such as chicken pox, which can only be recovered with the help of a doctor.
If you have a painful blemish that changes in size and colour with bleeding and irregular borders, you must consult your doctor immediately because sometimes it may be a sign of skin cancer. Your doctor will prescribe the medication and treatment depending upon the type and condition of your skin blemishes.
Treatment of Blemishes
Topical Medication
The first line of treatment for common blemishes is the prescription of medicated topical preparations. The topical treatments include the use of
Benzoyl peroxide is the most effective and widely used medication for acne. It is available as 5-10% cream or gel or lotion. The duration and frequency depend on the degree of irritation produced.
Salicylic acid is a keratolytic agent used to treat acne blemishes and has exfoliating properties. It will remove the outer layer of the skin which is very useful in fighting against acne blemishes.
Retinoic acid (tretinoin) is a comedolytic agent highly efficacious in acne treatment. 0.025-0.05% gel or cream preparations are used. Response to the treatment is delayed, it may take about 6 to 10 weeks for the result.
Never combine benzoyl peroxide and tretinoin because benzoyl peroxide will accelerate the degradation of tretinoin.
Adapalene is another synthetic drug used for acne.
Topical antibiotics like Clindamycin, Erythromycin, Tetracyclines and Nadifloxacin are used in the case of acne but are less effective than benzoyl peroxide.
Azelaic acid preparations containing 10 % and 20% preparations are also used.
Topical steroids of glucocorticoids because of their anti-inflammatory, immunosuppressive, vasoconstrictor and antiproliferative action, are used to treat acne and blemishes. Beclomethasone dipropionate, Clobetasol propionate, and Fluocinolone acetonide are some of the preparations.
Oral Medication
When the condition of the blemishes is severe, dermatologists will prescribe oral medications along with topical preparations.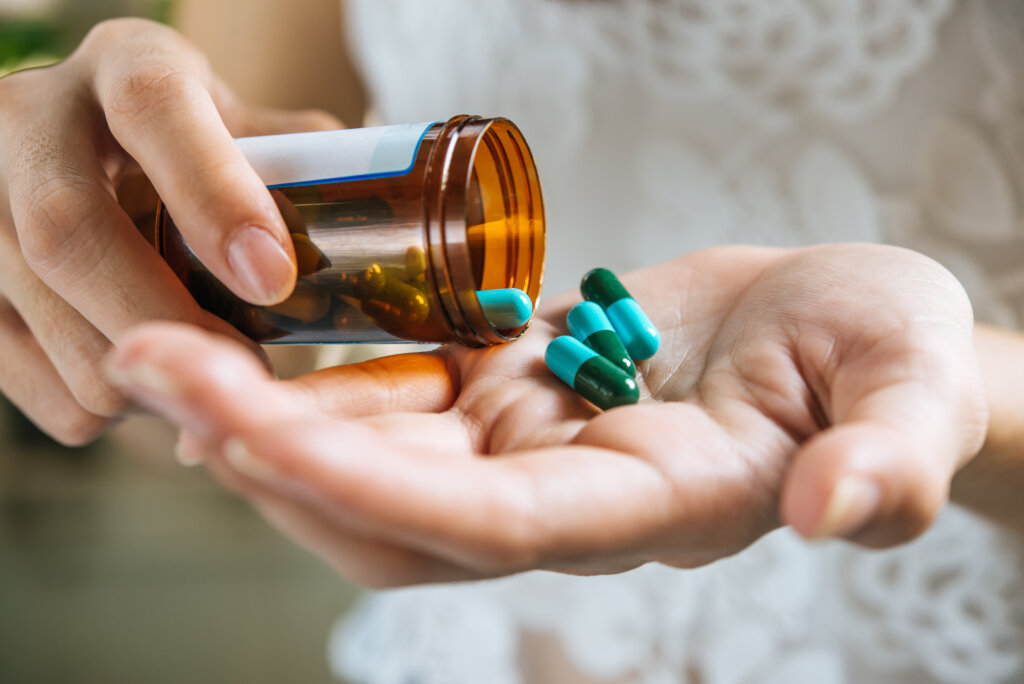 Generally, antibiotics such as Tetracyclines, Minocycline or Erythromycin are used in most cases. The treatment regimen varies from individual depending on the severity of the condition.
Isotretinoin is used in the case of cystic acne and associated conditions. It is 20 weekly regimen. The drug is not recommended in case of pregnancy as it is teratogenic.
When over-the-counter medicines and prescription medicines fail, birth control pills are used in the treatment of acne and blemishes. Birth control pills stop acne formation and thereby blemishes. It may take several months for a visible change in your skin.
Chemical Peels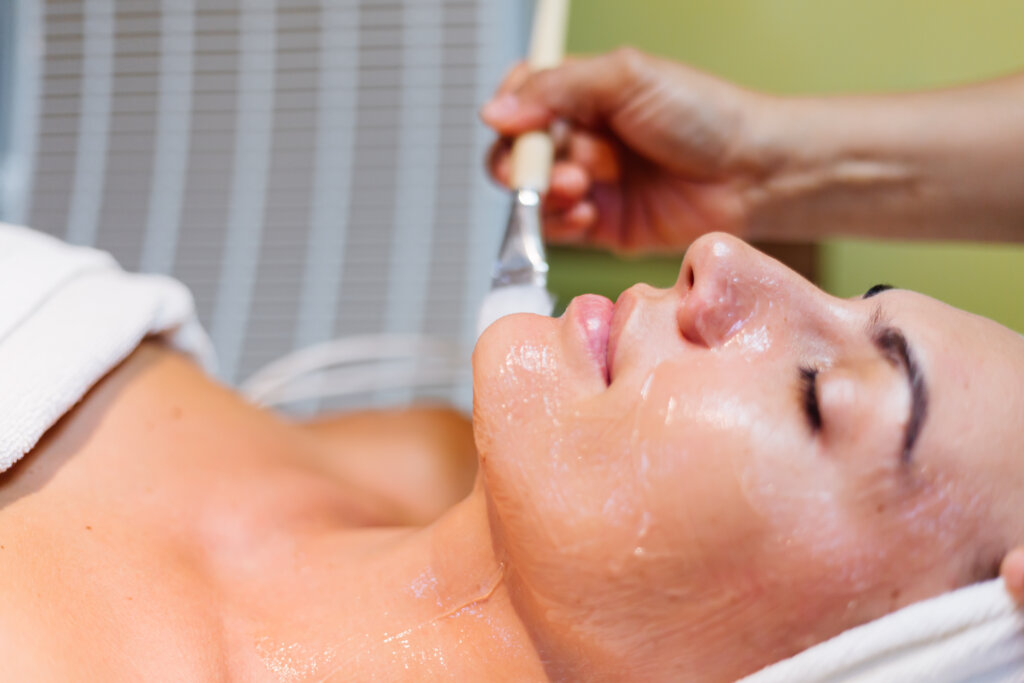 The chemical peel is known as chemexfoliation, or derma peeling. It is a type of facial resurfacing technique in which a chemical solution is used to improve and smoothen the texture of the skin on the face by removing the damaged outer layers. First of all, you must consult your dermatologist to know whether your skin is a good candidate for chemical peels.
It is a good option if you are
Physically fit
Having any degree of skin ageing ranging from mild to a severe degree.
Have any type of skin growth or facial acne scars or blemishes.
There are different types of peels, namely light, medium, and deep, depending on the severity of the blemishes.
Salicylic acid peel, TCA peel, pyruvic acid build, justness being lactic acid peel and glycolic acid peel are some of the chemical peels.
The preparation of the chemical peel is based on
The medical evaluation or lab testing.
Proper analysis of your medication history and adjusting it if necessary.
Stop the habit of smoking if any before the peel treatment begins.
Laser Resurfacing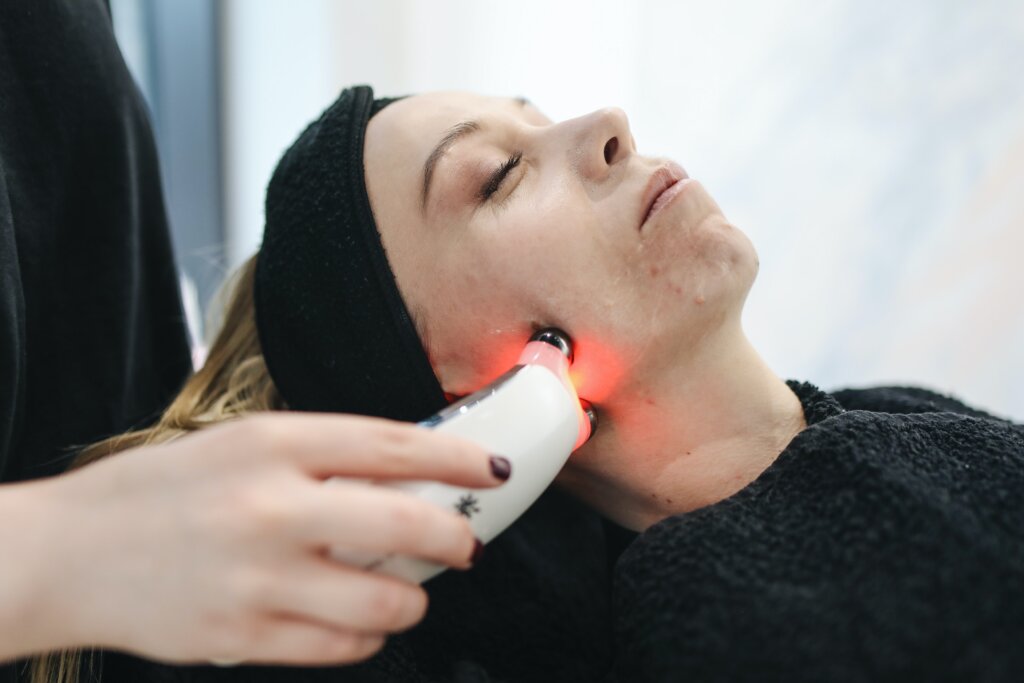 If you have dark blemishes on your face, then the best option is laser resurfacing. In this treatment, light energy is used in the form of a laser to remove the top layer of the skin. Depending on the needs of individuals there are ablative and non-ablative lasers
Ablative lasers employ the use of carbon dioxide or erbium. Carbon dioxide lasers are used in case of scars, warts and deep wrinkles. Erbium is used in case of finer lines and wrinkles with superficial skin concerns. Both of these methods are used to remove outside layers of the skin.
Non-ablative lasers involve the use of pulsed light, pulse dye lasers and fractional lasers. They are used for rosacea, spider veins and acne-related skin concerns.
Laser skin surfacing can be used to treat any of the following skin conditions.
Scars and acne scars
Fine lines and wrinkles
Crow's feet
Sagging skin
Uneven skin tone
Age spots
People with light skin are good candidates since they carry a reduced risk of hyperpigmentation. The procedure may not be suitable for people with active acne breakouts or excessive sagging skin.
What are the preparations to be made before the procedure?
Administration of isotretinoin increases the risk of scars. Always inform the doctor if you are taking any kind of medication before the treatment.
Aspirin affects post-laser treatment recovery because it may increase the risk of bleeding.
Quit smoking at least two weeks before the treatment begins. Because smoking after the procedure increases the risk of side effects.
What is happening after the procedure?
During the process, the outer skin layer gets targeted, but simultaneously the lower skin layers get heated. This results in the stimulation of collagen production. The new collagen fibres produce new skin which will be smoother and firmer.
The procedure involved is
A series of treatments are started several weeks before the procedure to increase the tolerance of your skin and reduce the risk of side effects.
Topical anaesthetics are applied to the area being treated by the doctor. If a large area of skin needs treatment, a sedative or pain killer is suggested by the doctor.
The next step is to clean your skin to remove any excess oil, dirt and bacteria.
Then the doctor begins the treatment and moves the laser slowly around the required area.
The treatment area is wrapped to protect your skin when the procedure ends.
Follow your doctor's instructions for the pre and post-care of the treatment.
Side effects
Some of the possible side effects may be burning, rashes, infection, swelling, bumps, hyperpigmentation, redness and scars etc.
Aftercare of laser resurfacing
After the procedure, you have to make sure that the healing of your skin takes place properly.
Normally the healing takes about 3 to 10 days. The bigger the area the longer the time required for recovery.
During the stage of recovery, your skin may be extremely red and scabbed over. Ice cubes can be used to reduce the swelling of the skin.
The treated skin should be cleaned four to five times a day. A cleanser containing saline or vinegar base solution should be used during this time which will be recommended by your doctor. Always use new dressings to ensure that your skin is clean.
After the treatment, your skin may be sensitive to the sun for up to one year. Use sunscreen with a minimum SPF of 30 for reducing sunburn and other damage caused by the sun.
What can you expect from the treatment?
Ablative laser treatment may correct your problems in one treatment.
Non-ablative requires multiple treatments for achieving desired results. They have less risk of side effects.
Results may last for several years but they are not permanent. You may repeat the procedure at some point when the previous result fades.
Read More:
Sebum Plugs; Are They a Matter of Concern? How to Get Rid of It?
Know your lips to decorate your smile | 7 Different Types of Lips
16 Natural Remedies for Lightening Your Dark Lips
How to Lighten Dark Lips Permanently? Do You Know These 5 Methods?
7 Best Keratin Treatment Products in India That Are Formaldehyde-Free
Final word
When the blemishes start to cause pain or inflammation, you must consult the doctor immediately. The doctor will prescribe you medicine and therapy as per the degree and type of your illness. The administration of medicaments should only be done under the prescription of a registered medical practitioner. Other techniques like laser resurfacing are all meant for severe conditions and also require a series of prior tests to find out whether you are a good candidate or not. All the procedures require pre and post-care. Not all treatments are permanent. You may need to repeat the procedure at any point. If you found this article useful, please share your thoughts in the comment section.