Acne is a common facial problem faced by youth. Especially during adolescence and young age of 12 to 24 years, youngsters suffer from this issue. Often, if these are not treated properly, they leave scars for a long time.
There are several reasons that cause acne, like-
Hormonal Changes
Excess Oil on face
Diet
Stress
Certain Medication
Hygiene
Cosmetics
Bad Bacterias on face etc.
Any of these could be the reason for acne and if not treated timely, they stick to your skin forever in the form of scars. You can cure this problem at home with a simple remedy i.e. 'Rubbing tomatoes on your face everyday.' Yes! Tomato, a simple and easily available vegie in your kitchen.
Let's read how you can use it for acne scar treatment and how beneficial it is for all skin types.
Tomato Nutrients and their uses for Skin
Firstly, let us know what elements are present in tomatoes that are beneficial for skin. Tomatoes are a rich source of folate, vitamin C, potassium and carotenoids. 
Folic acid (folate) helps in increased hydration by maintaining skin barrier function, which in turn helps in firm skin and flush toxins from the body helping in the treatment of acne.
Vitamin C is rich in anti-inflammatory properties that helps to reduce redness and swelling in acne.
Potassium is proved to be helpful in the growth of new skin cells that is useful to quick elimination of acne scars.
How to Make Tomato & Sugar Face Pack?
Making a tomato-sugar pack (Face scrub) is quick as a cat. Yes, one can say it is the easiest way or least you can do for your skin scars.
Just take a large or medium sized tomato and 1-3 tablespoons of granulated sugar.
Cut the top of the tomato. Make sure that it is a thick piece as you will use it as a scrubber pad on your face.
Put sugar in a bowl or plate.
Take the sliced piece of tomato and dip it in the sugar. Spread it evenly on the tomato slice.
Rub it on the face in circular motions. Begin with the forehead, and move down in the face avoiding the eyelid and under eye area.
Keep it for 10 minutes and rinse it off.
Dry the face with a soft towel and put mild moisturizer.
Benefits of Tomatoes for Skin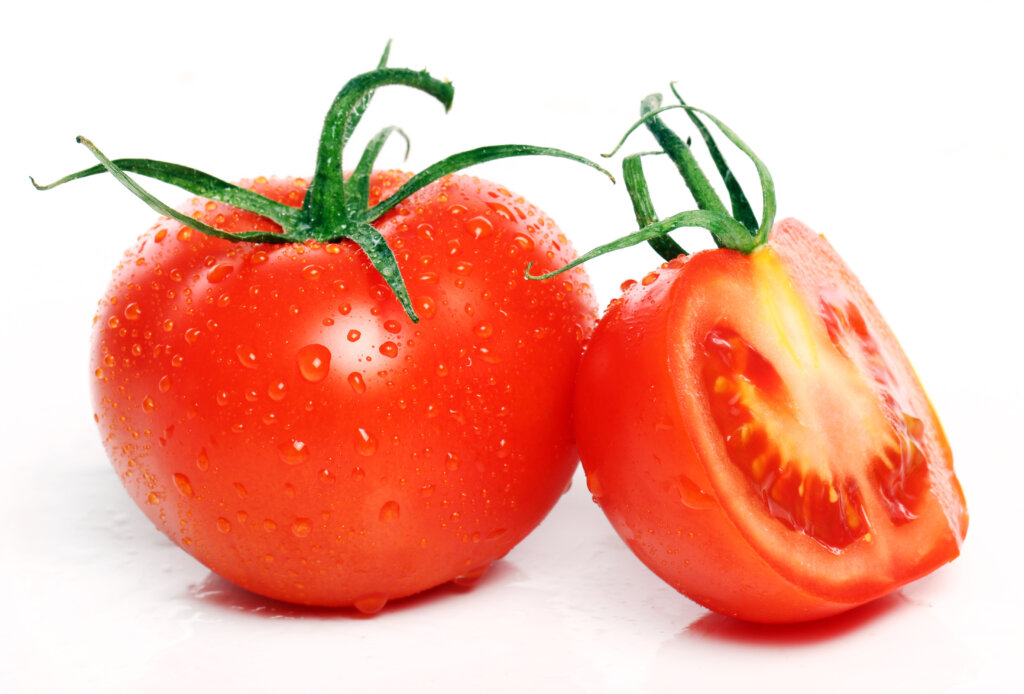 Rubbing tomato on face for acne scars and dark spots have noticeable results. You will see the changes in your skin after rubbing a tomato everyday.
Check out the following benefits of rubbing tomato on face:
Reduce excessive oil and maintain skin pH level: One of the reasons for face acne is excessive oil on the skin surface. Rubbing the tomato on your face reduces the excessive oil and helps to balance the pH level of skin.
Helpful in removing Skin Irritation: Tomato possesses the property of anti-inflammation. You can use the mix of tomato pulp and cucumber juice for reducing the skin inflammation and relief in acne pain.
Beneficial in Dark Spots: Tomatoes are a rich source of lycopene. Lycopene is a strong antioxidant that protects skin cells from damage. Thus, rubbing tomato on face everyday helps removing the old acnes and dark spots,
Natural Astringent: Large skin pores attract more dirt and cause skin problems like acnes. Tomatoes are natural astringent for skin. They tighten the large skin pores and reduce the breakouts in skin.
Reduce Tanning: Tomatoes work wonders to reduce tan. Take one tomato and make puree. Now put two tablespoons of lemon in it. Apply the mixture regularly. It will remove the tan skin in no time.
Removal of dark acne scars: Rubbing tomato on skin helps remove the dark acne scars as mentioned above. You can add more ingredients to it for faster results. Take one tablespoon of cucumber juice, tomato juice and oats. Make a smooth paste. Apply it for ten minutes and rinse it off. It will act as a dark-spot busting face mask.
These are some benefits of using tomatoes on skin. Besides, tomatoes reduce signs of aging, remove wrinkles, exfoliate dead skin cells which result in glowing natural skin, curing acne, dark spots, treating sunburn etc.
So, next time you face any skin problem including acne and dark spots, do not worry. Just walk in your kitchen, take a tomato, squash it, rub it on your face and see the results. Get acne free natural glowing skin.