Simple hairstyles are a great option for those who prefer a minimalist look when it comes to dressing up in a saree. This type of hairstyle is both practical and elegant, allowing the saree to take center stage. A simple hairstyle, such as a sleek bun or a low ponytail, is both easy to achieve and provides a clean and polished look. This style is perfect for both casual and formal events and can be paired with any type of saree, from traditional silk to modern printed designs. On the other hand, a traditional hairstyle for saree could be a bun, braided bun, or a braid adorned with fresh flowers or a hair accessory, adding an elegant and culturally rich touch to the overall look.
Open hairstyle for saree have become increasingly popular now among women. This is because they offer a versatile look that can be dressed up or down, depending on the occasion. An open hairstyle, such as loose waves or curly tresses, paired with a saree can add a touch of effortless glamour to any celebration. An open hairstyle adds a touch of sophistication and femininity to the overall appearance. It gives the impression of a carefree, yet elegant look that is perfect for formal events or even more relaxed gatherings. This style can be achieved with loose waves, straight hair, or messy braids, and it works well with different types of sarees, from traditional silk to contemporary printed designs. Whether you're attending a wedding, a dinner party, or just a casual day out, an open hairstyle with a saree is sure to make you look stunning.
There are many beautiful and fashionable saree hairstyles for medium hair. For medium length hair, popular saree hairstyles include soft waves or curls for a touch of glamour, a braided bun for sophistication or a half up, half down style that showcases the hair while keeping it out of the face. These styles can be dressed up or down and can be achieved in various ways, depending on personal preference and the occasion.  Short hair can still look stunning with the right saree hairstyle. Some popular options for Saree hairstyles for short hair include the sleek bob for sophistication, the pixie cut for a carefree and edgy look, side-swept bangs for added glamour, or a bun or ponytail for a clean and polished look.
Simple Hairstyle on Saree for Wedding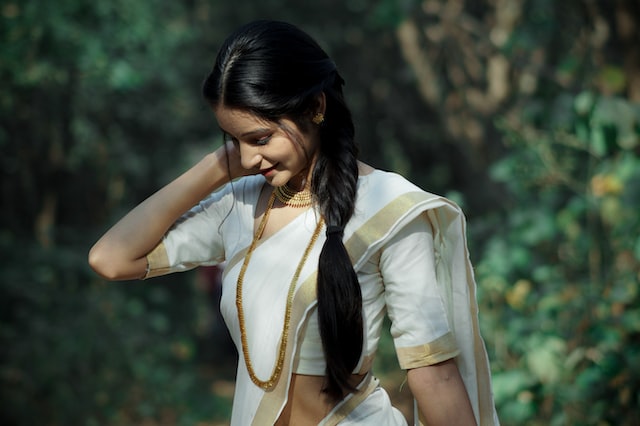 A simple hairstyle is a great option for a wedding when paired with a saree. One classic and elegant option is a sleek low bun, where the hair is pulled back and tucked neatly into a bun at the nape of the neck. Another option is a side-parted low ponytail, where the hair is pulled to one side and secured with an elastic band, adding a touch of sophistication to the look. For a more traditional look, a braid can be incorporated into the hairstyle, whether it's a simple side braid or a more elaborate fishtail braid. Adding fresh flowers or hair accessories such as hairpins, can enhance the hairstyle and add a pop of colour to complement the saree. The key is to keep the hairstyle simple and elegant, allowing the saree to be the statement piece.
Each style can be dressed up with accessories, and choosing the right hairstyle can enhance the beauty of a saree and make the wearer feel confident and beautiful. Regardless of the style you choose, the right hairstyle can enhance the beauty of any saree and make you feel confident and beautiful.
Read More:
Benefits of Hair Spa: Its Pros, Cons, and Hair Care
Fed up With an Itchy Dry Scalp? Here Is the Causes, Treatments, and Prevention
7 Best Keratin Treatment Products in India That Are Formaldehyde-Free
Top 5 Least Damaging Hair Bleach Brands
5 Things You Should Know To Take The Best Care Of Damp Hair