Once you have pampered your hair with the good touch of keratin treatment you certainly find ways to make them last longer. After spending lots of money you won't risk treating your hair with any hair product that may damage your keratin-treated hair. Make sure you use the best sulfate-free shampoo for keratin-treated hair.
Keratin hair shampoo helps to keep your hair silky, straight, and frizz-free.
Choosing the appropriate shampoo is necessary for post-keratin treatment as it gives good life to your tresses. Let's walk through this article and check out the best shampoo for keratin-treated hair in India.
L'Oreal Paris Ever Sleek Sulfate Free Keratin Caring Shampoo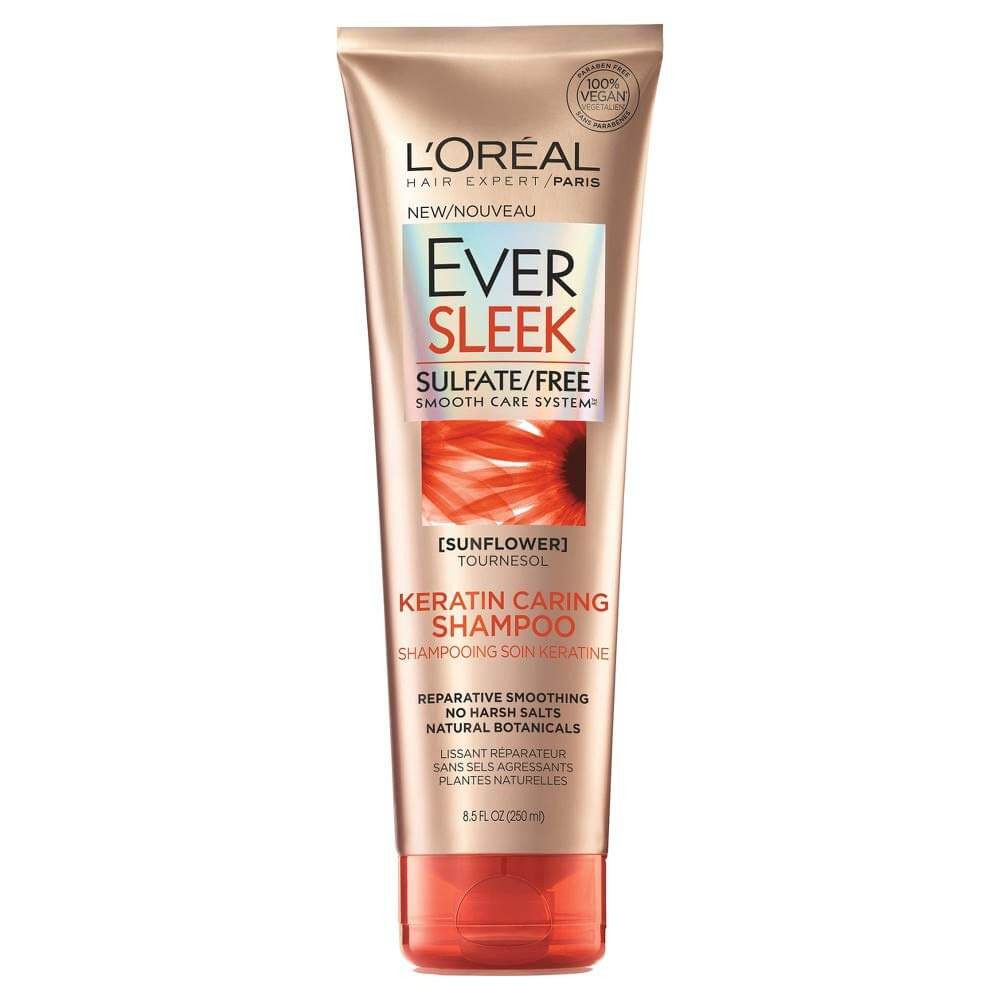 Give your keratin-treated hair some special care with this ever-sleek keratin care shampoo. This sulfate-free shampoo helps to repair chemically processed hair and increases the softness and shine of the hair.
Infuses with sunflower oil this shampoo cleanses and cares for the protein and keratin of your hair.
Great for color-treated hair and gives a fresh aromatic fragrance.
No harsh sulfates, salts, or surfactants are included in it that cause dull and damaged hair. This keratin hair care shampoo improves your hair texture and helps you to give extra care to your keratin-treated hair with no worry.
Schwarzkopf Shampoo for Keratin-Treated Hair
Enriched with keratin smooth technology this shampoo is a blessing for your keratin-treated hair. This micellar shampoo contains lightweight oils to bring a natural shine to your hair. The cell perfector technology replenishes damaged cells from the cuticles.
Gives nourishment and elasticity and fills gaps in the hair surface. Schwarzkopf shampoo cleanses your hair gently and makes them straight and healthy. What else your hair can ask for?
Let your hair be healthy and silky.
MATRIX Opti. Care Professional Haircare
This famous haircare product is the first choice of every hairstylist. Matrix opti care professional hair shampoo is enriched with shea butter that cleans your scalp gently and gives deep moisturizer to your hair. It also provides you 5x split-end protection.
The best thing about this professional shampoo is that it helps you to get smooth straight hair for upto 72 washes. Best for straight hair type,
This is suitable for men, women, and all hair types. It contains no parabens and is safe for keratin-treated hair. So forget your frizzy and unmanageable hair and get the smooth feel of your beautiful hair.
To get the best results it is advisable to use this shampoo along with a professional matrix conditioner, following professional hair serum.
Keratin Professional Deep Hydration Replenishing Shampoo
Aftercare of post-keratin-treated hair is so important. Keratin professional deep hydration replenishing shampoo nourishes your chemical-treated hair and gives them enough moisturizer. Infused with keratin, almond oil, jojoba oil, and shea butter for better care of curly wavy, and straight hair.
No sulfate or paraben is added to this shampoo. The keratin amino complex included in it protects the cuticle and the keratin fiber.
Using it with keratin professional conditioner adds life to the dull and frizzy hair. It helps to deliver the substantive conditioning found in a mask while the course of a two-minute application.
This a superb formula for repairing damage and restoring the strength of your hair.
TRESemme Pro Protect Sulphate Free Shampoo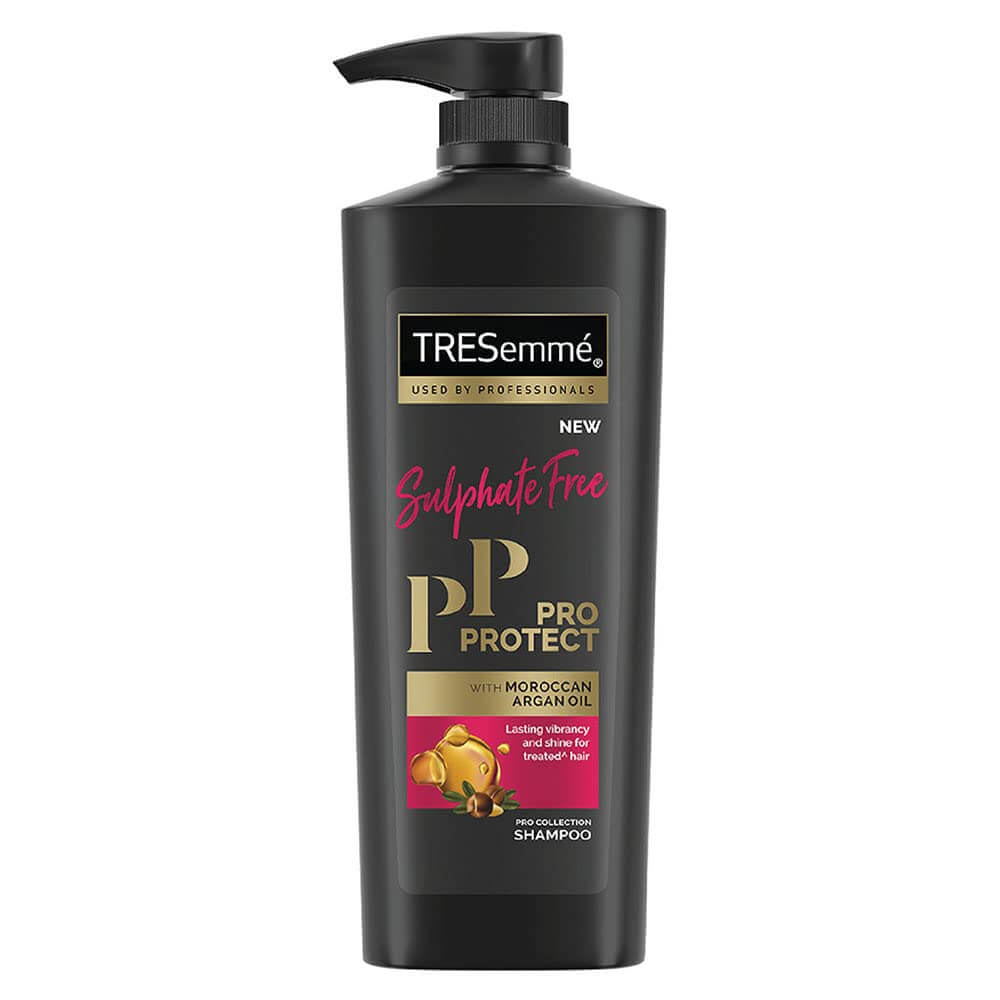 The Moroccan argan oil in this shampoo moisturizes and nourishes your chemical-treated hair. This shampoo is free from harmful ingredients like sulfate and paraben and that makes it saloon inspired product.
It gently cleans your hair and protects your keratin-treated hair. Get long-lasting vibrancy and smooth shine with Tresemme Pro protect sulfate-free shampoo very easily. Best for colored hair. This beauty detangles your hair and makes them look healthy and gorgeous with every wash.
So give your hair special love with the best sulfate-free shampoo in India.
Final words
Keratin treatment is not the cup of tea for everyone as it is certainly expensive. Once you have taken this treatment you must be very careful before using any hair product in your hair. Don't wash your hair frequently because it will fade the effect of keratin treatment.
Use sulfate-free and paraben-free shampoo to add more life to your keratin-treated hair. Use homemade remedies prescribed by experts. For best results use conditioner with shampoo.
It is always better to choose the best for your hair as they deserve all the attention. After all good hair adds charm to your personality. So make each day a good hair day.
Read More:
7 Best Keratin Treatment Products in India That Are Formaldehyde-Free
Top 5 Least Damaging Hair Bleach Brands
Tired With the Oily Scalp? Here Is the Causes, Remedies and Effects
Fed up With an Itchy Dry Scalp? Here Is the Causes, Treatments, and Prevention
5 Things You Should Know To Take The Best Care Of Damp Hair
FAQ
Can I use normal shampoo on keratin-treated hair?
Keratin-treated hair needs more attention and extra care. You can not use any kind of hair ingredient once you have taken the keratin treatment on your hair. The shampoo you use for keratin-treated hair must be sulfate-free, paraben free and must be mild and gentle. You can not use shampoo which contains sulfate, paraben, or any minerals as it may damage your hair. To add life to your keratin-treated hair make sure you use keratin-based hair products.
What not to use after keratin treatment?
Make sure you do not use products that contain sodium chloride or sulfate in it.These ingredients reduce the effect of keratin treatment on your hair and make them dull and unmanageable. We recommend you to choose the best quality products that give protection to your keratin-treated hair.
What shampoo to avoid for keratin hair?
So many shampoos contain sodium chloride and parabens but it is not safe to use these ingredients. If you have keratin-treated hair you should avoid shampoo that contains any of these ingredients. It decreases the long-lasting effect and washes out the keratin from your hair.
Can I use Tresemme shampoo on keratin-treated hair?
Tresemme is loved by all saloon artists as it gives your keratin-treated hair the best care and nutrients. It is completely free from any sulfates or parabens that are harmful to keratin-treated hair. It is designed for Indian hair and helps to restore shine and strength. You can certainly choose Tresemme shampoo for your keratin-treated hair for long-lasting results.