In these busy days when you all run behind your work, family, and responsibilities the constant rant you can hear is: " there is no time for ourselves". Right? Due to lack of time, we restrict our self-care to facial skin and hair care. We are living in a country where we had a perfect bathing routine. It used to left people with supple, soft, and flawless skin. But now, it had been restricted to just rinsing and washing with some random soaps loaded with chemicals. More than keeping your body clean and hygienic it's also about the time that you are giving to yourself in between all these stressful times. In this blog, you will start falling in love with this therapeutic shower routine for glowing skin and moreover love and understand yourself.
Steps To Do Before, During, And After Shower Routine
Having a cool shower after a long stressful day or at the beginning of the morning after a workout is very important. Because it boosts metabolism and refreshes your body. There are certain steps that you should follow before and after taking a shower. And these are the steps that actually complete the routine.
Before "Shower" Routine:
The first step to follow is to remove your makeup. For that use an oil-based makeup remover. We have seen the habit of removing makeup using coconut oil. Do you know how it acts on the skin? The fact is that these thick oils like coconut oil can create a film of residue on the face which will prevent penetration of products you use after washing your face. It's better not to apply on skin that has open pores. So, the right process to cleanse your face is to do double cleansing. Take an oil-based cleanser like Garnier micellar water and apply it to your face with a cotton pad. You can see all those kajal, lipstick, and foundation applied on the face on that cotton pad. Later cleanse your face with a gentle cleanser that suits your skin. One of the cleansers that suit every skin type and is affordable is Cetaphil gentle cleanser.
In India, hair oiling is an irreplaceable step. Applying oil on your scalp twice or thrice a week is mandatory for hair growth and a healthy scalp. You can use the hair oil of your choice and massage it for 5 – 10 mins and leave it for 15 mins.
Apply a face pack that suits the skin on your face. You can apply both homemade and those available at the market on your face for 15 – 20 mins.
During Shower Routine:
Step 1: Start taking shower by cleansing your hair with a suitable shampoo. It's better to use sulfate and paraben-free shampoo for healthy hair. Take an ample amount of shampoo and dilute it with water and cleanse it on the scalp. Remember that shampoo is for the scalp and conditioner for hair.
Step 2: Then rub your entire body with a scrub to remove all the dead cells without being so harsh on the skin. Do this once or twice a week for exfoliation.
Step 3: The next step is to cleanse your body with a shower gel or a body wash. Take a small amount of the product on the loofa and lather it and apply it on the whole body.
Step 4: This is a completely optional step of the process and follows it only if you want. Because taking off body hair is completely personal and keeping it is also normal. Before washing off the body wash, shave the hair on your arms, legs, armpit, and pubic area.
After Shower Routine: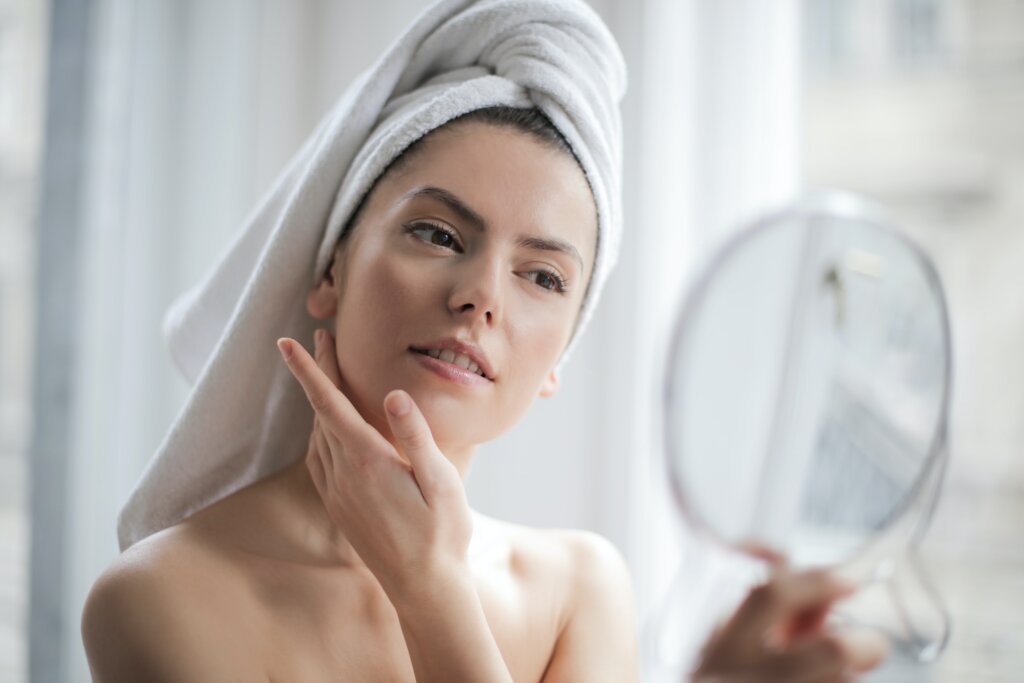 Step 1: Apply a body moisturizer on a mild wet body to keep skin hydrated and supple. You can apply deodorant to your armpits to keep them refreshed.
Step 2: Now comes the skincare routine:
People with oily skin face the adverse issue of blackheads and whiteheads which are very much visible on the nose. Nowadays blackhead strips are available in the market to take these off. The strips from the face shop are really gentle on the skin and remove the blackheads.
The next process like body hair removal is also optional and that is facial hair removal. It depends on the preference of the individual and it varies. You can keep the hair or remove it. Facial hair removal is good for smooth makeup application. Applying some aloe vera gel on the face to act as a barrier and use a razor to remove it.
You all might have pimples on your face due to various reasons like hormonal, allergies, dust, etc. it's better to use acne patches that are available in the market to absorb the dirt and oil on the acne. It will stop you from touching it always. These are mainly paraben and drug-free which is suitable for the skin. Leave it on for 4 – 5 hours.
Now, it's time to use a toner. It's really good for open pores and keeps your skin refreshed.
Apply a serum according to your skin type. It's mostly preferable to use vitamin – c serum to reduce pigmentation and fade acne marks. Do the face massage for 5 mins for proper blood circulation.
Then apply a moisturizer according to your skin type and afterward apply sunscreen with an SPF of at least 50.
Now comb your hair by using a wooden comb. It's really better to comb backward for blood circulation in the scalp.
How Often Should You Shower
The concept of how often you should shower has conflicting ideas but dermatologists recommend only taking showers every other day or twice or thrice a week. But this varies according to your skin and climatic conditions. If you are someone with psoriasis or eczema, taking a shower more than once a day can make your skin worsen by keeping it dry and flaky.
People residing in cold weather don't require to take a shower every single day but on the other hand, people in hot climates require to take shower daily.
So, The shower routine body care varies from person to person on the basis of their skin type, climate, and activity level.
Common Mistakes Made During Shower Routine
The first mistake everyone makes is using water that is too hot or cold. It is better to use water at a moderate temperature. Bathing in hot water can damage your hair. Bathing in hot water for people who follows a shower routine for dry skin will make your skin more dry and flaky.
It is better to avoid soaps that contain chemicals. It is more convenient to use shower gels or body wash that are gentle, chemical free, and fragrance-free for avoiding the loss of natural oils in your body.
Don't wash your hair frequently. Wash your hair twice or thrice a week.
Wash your towel every alternate day. Keep a separate towel for hair, body, and face.
Avoid sharing bathing equipment because people can have different skin conditions.
Conclusion
Having a shower routine is really an integral part of your life. These days, where awareness of health and well-being is provided everywhere it's important to keep yourself a priority. The shower routine is not just self-care it is also self-love. Mostly in the case of women, it is considered that putting yourself first or taking care of yourself is a sin. But what we should learn is to love ourselves. because the people who love themselves can love others more and if you don't treat yourself well, then who will?
Read More:
Why Oiling The Belly Button Is Important
Tired With the Oily Scalp? Here Is the Causes, Remedies and Effects
Why You Should Not Miss the Epilators for Pubic Area
How Morning Drinks Can Help You Get Glowing Skin
How to Get Rid of Suntan Naturally
FAQs
1. What is a good shower routine?
The best shower routine includes cleansing, scrubbing, moisturizing, oiling, and skin care. You can have detailed information regarding the routine in the blog.
2. What is an average shower routine?
The average routine consists of cleansing, scrubbing, and moisturizing.
3. How long should a girl take a shower for a girl?
A detailed shower routine should be done twice a week and it will take about 1 hour.
4. What is the healthiest shower schedule?
For proper hygiene and relaxation follow the before, during, and after routine provided in the blog.
5. Is showering once a week ok?
The answer to the question varies from person to person. If you are residing in a hot climate or your working schedule is tight, it's better to bathe once every day but if you are living in cold places and have a low-key activity cycle better opt to bathe at least twice a week.