Are you the one with dry hair? Are you among those who ignore it? Then you must read this blog completely. Dry hair is an indication of many underlying health issues. Let us find out how and when to diagnose dry hair in men, what happens if it is left untreated, and the treatment methods.
How to Diagnose Dry Hair in Men?
If you are suffering from severe hair and your hair care routine doesn't work well, then you can book an appointment with your doctor. The doctor may ask you many questions about your hair care routine and hair care products. They may also check your hair and scalp. In some cases, they may collect a sample of your blood or urine to further check for any medical conditions like hypothyroidism or hypoparathyroidism.
How to Treat Dry Hair in Men? Or How to Manage Dry Hair in Men?
In most cases, you can treat your dry hair by simply changing some of your lifestyles. They are
1. Protect Your Hair From Sun Exposure and Heat
Always protect your hair from heat and sunlight. You can wear caps while you go outdoors and also work outdoors.
2. Limit Your Shampoo Session
If you have a habit of using the shampoo daily and feel that your hair is becoming dry, then you should reduce the frequency of using the shampoo to two to three times a week. You can choose the best shampoo by knowing the type of your hair. Mild shampoos and conditioners can be used if you prefer to shampoo every day.
3. Use Cold Water
Use cold water to wash your hair as it may help to retain moisture from your hair. Prolonged use of hot water will damage your hair.
4. Choose the Right Product
Some people never care about buying special products that are meant for men. They will use hair care products that are meant for women in their homes. There are products exclusively for men and women. Always try to use specific hair care products that will match your hair type.
5. Use Leave-in Conditioner
Use leave-in conditioners on your hair, which serve as a moisturising agent. It should be applied to your hair for 20 to 30 minutes and doesn't need to be rinsed out. They will condition your hair throughout the day.
6. Stop Using a Blow Dry
The best way to dry your hair is to let it air dry. This method will prevent hair damage. If you are using a blow-drying system, always try to set the lowest heat setting. You should avoid flat irons, curling irons, and electric rollers.
7. Oil Massage
Oils are having a miraculous effect on dry hair and dry skin. Whenever you plan to shampoo your hair, give yourself an oil massage the night before that day. Coconut oil, sunflower oil, olive oil, argan oil, etc. can be used to massage the scalp and moisturize your hair.
8. Change Your Brush
For stimulating your scalp, it is better to use boar bristle brushes and nylon brushes. They will help in dispersing oil throughout your hair.
9. Deep Conditioning
If you suffer from severe hair dryness and it is becoming frizzier day by day, then you can go for a deep conditioning treatment. You can buy a deep conditioning shampoo and conditioner for your hair and use them properly.
What Happens if You Do Not Treat Dry Hair in Men?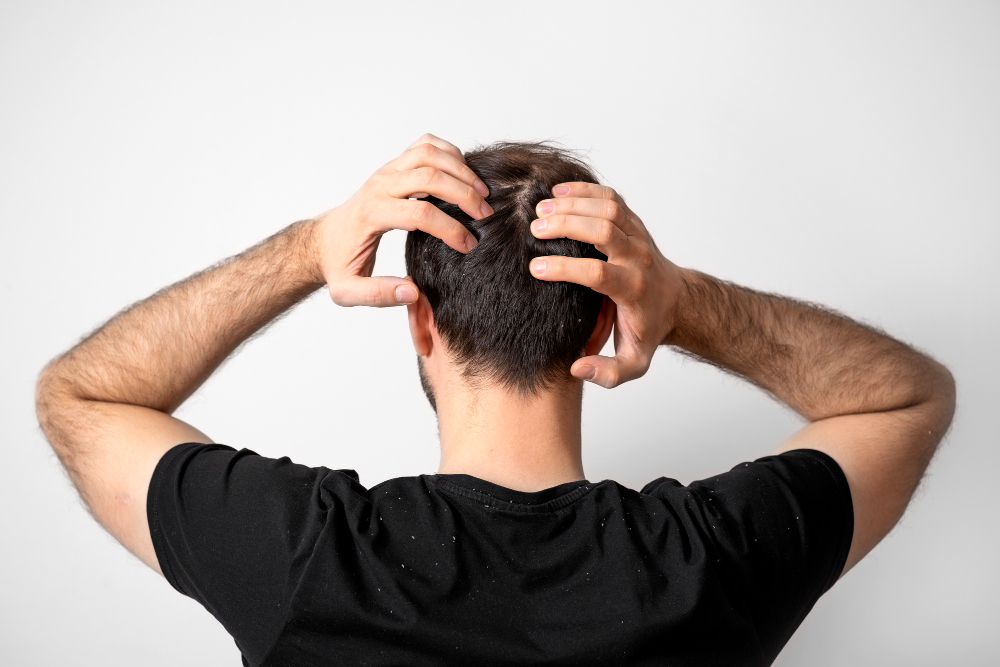 If you left your dry hair untreated, then
The hair will become more damaged and even break.
The hair dryness will gradually lead to dandruff and even other infections like Seborrheic Dermatitis.
You may experience an extreme amount of hair fall which may lead to baldness in some cases.
The itchiness will be there on your scalp, which then leads to scalp inflammation.
Dry hair can be a symptom of underlying health conditions, which may lead to some serious effects later.
How to Prevent Dry Hair in Men?
Smoking and drinking alcohol should be avoided.
Include protein supplements in your hair care regimen.
Follow a proper diet routine which will support your hair care routine by consulting a nutritionist.
If the blood flow reaches your scalp, the health of your hair will be improved. Try freehand exercises for enhancing blood circulation in your body.
Comb your hair with a boar bristle hairbrush.
Chemical hair treatments should be avoided.
Wear caps while bathing or swimming in a pool to protect your hair from chlorine and saltwater.
Read More:
Sebum Plugs; Are They a Matter of Concern? How to Get Rid of It?
Fed up With an Itchy Dry Scalp? Here Is the Causes, Treatments, and Prevention
Tired With the Oily Scalp? Here Is the Causes, Remedies and Effects
How Tattoo Numbing Cream Is Important?
ABC Juice; Benefits, Side Effects. Why Is It Called a Miracle Drink
Final word
Dry hair can occur in both men and women and is not a serious problem but an alarm for many underlying health problems. This problem can be tackled by yourself by changing some of your lifestyle habits and your home itself. You can follow some of the preventive measures to keep your hair healthy. Always use hair care products that are meant for men and also use products that suit the nature and type of your hair. You can leave your thoughts in the comment section.