Pleasant fragrance, beautiful packaging, or big brands? But the fact is that most of the products with all these qualities are bombarded with a huge amount of chemicals. These are really harmful to your healthy skin and hair. It is challenging to avoid these products. Instead, we have some healthy and chemical-free alternatives. One among them is sodium methyl cocoyl taurate. This natural option is a must-try while purchasing a cleanser, toothpaste, shampoo, and face washes.
So, why wait? Just scroll down to learn more about this wonderful ingredient.
What Is Sodium Methyl Cocoyl Taurate
In school, you all have learned that oil and water cannot be mixed. The fact is true but an ingredient called surfactants or surface-active agents can do it. It is a compound that lowers the surface tension at the interface of two liquids. It is a primary ingredient in every cosmetic product. One such chemical surfactant is sulfate. Sulfate is highly used in various shampoos, cleansers, etc but they are extremely harsh on the skin. The right alternate for this is sodium methyl cocoyl taurate. It is a salty white paste derived from the fatty acids of coconut. It is mild and biodegradable. It makes skin supple, and soft and improves its texture. It is used in both adult and baby products.
Uses Of Sodium Methyl Cocoyl Taurate
It is used in shampoos that are sulfate free. Sulfate and paraben-free shampoos are really good for scalp health as they won't make it flaky and dry. It cleanses the scalp without making it dry by balancing the pH.
It won't act as a barrier on the skin and thus helps other skincare products to penetrate into the skin.
It also consists of anti-oxidant properties which protect skin from inflammation.
It is used in leave-on products like foundation.
Its non-drying properties keep skin softer and moisturized.
It is the ideal ingredient for sensitive skin.
Sodium methyl cocoyl taurate is good for removing acne.
Preparation Process Of Sodium Methyl Cocoyl Taurate
Method-1
Sodium methyl cocoyl taurate is usually prepared by dissolving N-methyl taurine (a coconut fatty acid amide) in a mixture of sodium hydrate, isopropyl alcohol, and water.
A solution made by mixing lauric acid, sodium chloride, and sodium hydrate are added to the previous solution.
A solution of calcium chloride and hydrochloric acid is also added to the mixture.
The mixture is then refined, strained, and dried, resulting in the formation of a whitish powdery substance.
It can also be found as a solution mixed with water and sodium chloride.
Method- 2
Here, coconut fatty acid amide – N-methyl taurine, sodium methyl taurate solution, and boric acid are heated at 200° C to distill the water.
It is stirred at lower heat and pressure levels.
The mixture is then cooled down and a wax-like substance is formed that is later powdered.
Is it skin and hair safe?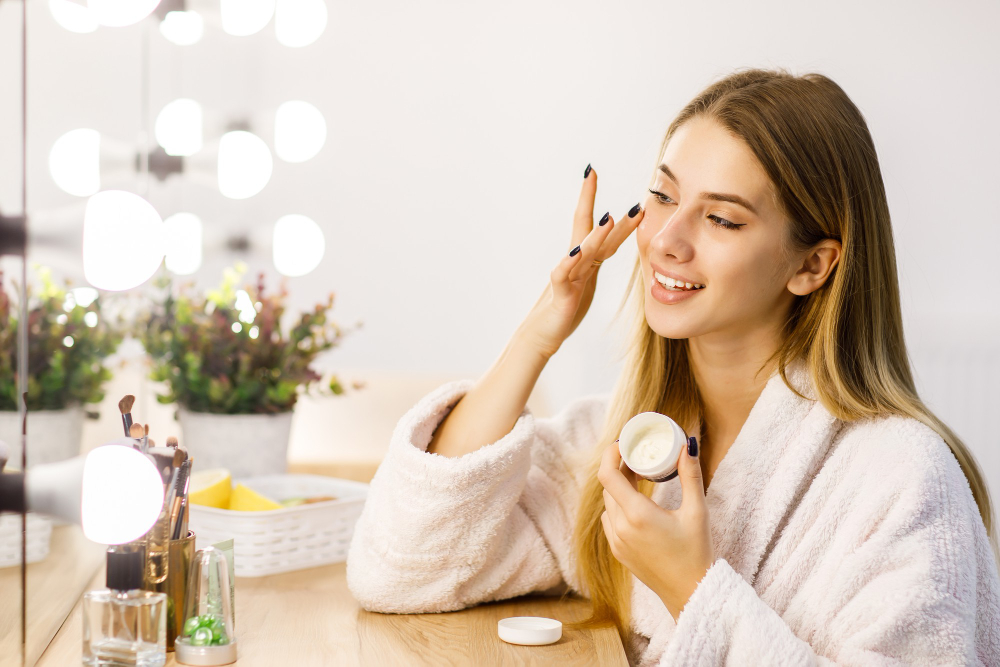 Since sodium methyl cocoyl is used in various skin and hair care products, is it really safe? The answer is yes. In the case of hair care, you all know that usage of sulfate-free shampoo is good for a hydrated scalp. So, this type of high-foaming and mild surfactant activity is the right choice for medicated and anti-dandruff shampoos. Thus making sodium methyl cocoyl taurate safe for hair.
In the case of skincare, the lack of silicones in this property works as a cleanser and mixes oil and water to clean the impurities of your skin. It is also a major property for sensitive skin because of its non-irritant nature. It can be even used by people with a skin condition called rosacea. Sodium methyl cocoyl taurate is verified to be of low concern according to research studies and data and is safe for use in cosmetics. The American Association of Dermatologists recommends using sulfate-free shampoos usually containing sodium methyl cocoyl taurate, for people with rosacea.
Read More:
Sebum Plugs; Are They a Matter of Concern? How to Get Rid of It?
Tired With the Oily Scalp? Here Is the Causes, Remedies and Effects
Do you know what blemishes are and, how to know their significance by colour?
How Tattoo Numbing Cream Is Important?
7 Best Keratin Treatment Products in India That Are Formaldehyde-Free
Final Word
As mentioned in the above blog, sodium methyl cocoyl taurate is an ideal partner for your skin and hair care. This bio-degradable and mild surfactant can be used with utmost trust. So, are you going to check this out in the ingredient list before purchasing next time?
FAQs
1. Is sodium methyl cocoyl taurate safe?
Yes, it is a mild alternative to harmful sulfate. It acts as a surfactant on the skin without making it dry or irritant. Instead leaves the skin hydrated and soft.
2. What does sodium methyl cocoyl taurate do to hair?
It is high foaming, mild and hydrating agent which will not make the scalp dry and thus protect it from dandruff and scaly scalp buildup.
3. What is sodium methyl cocoyl taurate made from?
It is made from the fatty acids of coconut. There are two methods for its preparation. Refer to the blog for the detailed study.
4. Is sodium methyl cocoyl taurate bio-degradable?
Yes, it is biodegradable.