Tulsi has a special role in Ayurveda and in India, the natural habitat of Hindus. Hindus cherish it and consider it to be sacred. It has been shown that the benefits of tulsi is quite effective in protecting our bodies from a wide range of infections and diseases that affect the liver, skin, kidneys, and other organs. It is one of the best meals for heart health since it contains strong antioxidants that can help reduce your blood pressure and cholesterol levels. It is particularly advantageous for diabetics because of its hypoglycaemic properties, which are known to reduce blood sugar levels. The tulsi has a strong benefits for its multiple health advantages throughout the remainder of southeast Asia. There are numerous tulsi-infused goods available that can help us take benefits of the many advantages of tulsi leaves, ranging from lifestyle items to medications and more.
How to Consume Tulsi Leaves
The simplest and most efficient technique is to drink tulsi water right away in the early hours of the day. The following is a step-by-step guide on consuming tulsi leaves with water:
Step 1: Bring water to a boil. Heat 200 mL of water in a pan.
Step 2: Bring Tulsi Leaves to a boil. Bring the water to a boil with 3 to 4 tulsi leaves.
Step 3: Filter the Tulsi-Infused Water While pouring the tulsi-infused water into a cup, sieve it.
Step 4: Optional Sweetener Before stirring and sipping, add a spoonful of honey, sugar, or lemon juice.
Health Benefits of Tulsi Leaves
Natural Immune Enhancer
Fever (antipyretic) and pain (analgesic) are reduced.
Stress and blood pressure are reduced.
Cancer-fighting properties
Beneficial to Heart Health Beneficial to Diabetes Patients
Helpful for Kidney Stones and Gouty Arthritis
Tulsi Medical Uses
Kidney Stones Treatment
Tulsi helps lower uric acid levels in the body by acting as a mild diuretic and detoxifying agent. Acetic acid, found in holy basil, aids in the disintegration of stones.
Eye Care
Tulsi's anti-inflammatory qualities support eye health by avoiding viral, bacterial, and fungal
infections. It also calms eye irritation and decreases stress.
Oral Health
Tulsi is an organic mouthwash and germicidal for the mouth. Ocimum Sanctum can also treat mouth ulcers. Holy basil kills the microorganisms that cause dental cavities, plaque, tartar, and foul breath while also safeguarding the teeth.
Cure for Respiratory Disorders
Tulsi treats viral, bacterial, and fungal diseases in the respiratory system due to the presence of chemicals such as camphene, eugenol, and cineole. It is effective in treating bronchitis and tuberculosis.
The Advantages of Drinking Tulsi Water in the Morning
It's a great way to start the day to have Tulsi water first thing in the morning without eating anything. By promoting digestion, this helps with toxin clearance and cleanses the stomach. Tulsi leaves are high in antioxidants, which help the digestive organs work properly.
Side Effects of Tulsi Leaves
Tulsi has been proven in studies to have a harmful affect on pregnant women by producing uterine contractions.
Tulsi leaves may also induce an abnormal reduction in blood sugar levels in diabetic people who are already taking diabetes medication.
Tulsi has been linked to blood thinning. However, if a person is currently taking medication for the same condition, taking tulsi may have a negative impact on their health.
Tulsi is high in mercury. As a result, eating tulsi leaves is not advised because it can harm the enamel.
Tulsi Are Available in Varieties of Types
Tulsi Drops
Herbal Hills Panch Hills Tulsi Drops
The Herbal Hills Panch Hills Tulsi Drops are a unique formulation that contains three different forms of tulsi extracts: vishnu priya tulsi, rama tulsi, and bisva tulsi. Panch tulsi drops are a fantastic supplement to use for your general wellness, from easing common cough and cold symptoms to combating oxidative stress.
Tulsi Powder
Nectar Valley Tulsi Leaf Powder
The Nectar Valley Tulsi Leaf Powder is the ideal solution to all of your hair problems. This versatile, superfine powder can completely eliminate itching, irritation, dry skin, and dandruff.
Tulsi Tablets
Himalaya Wellness Pure Herbs Tulasi Respiratory Wellness
Himalaya Wellness Pure Herbs Tulasi Respiratory Health, Whether you have chest congestion, an allergic reaction, or a common cold, this medicine will help you get through it.
Tulsi Juice
Kapiva Ayurveda Wild Tulsi Giloy Juice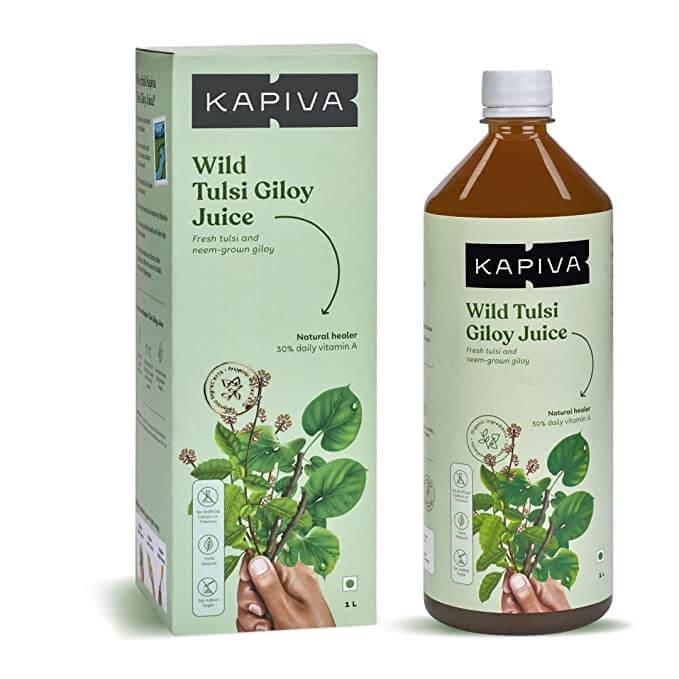 (Natural Juice for Building Immunity)- No Added Sugar
There is no more effective therapeutic combination than tulsi and giloy. Tulsi giloy juice, when blended, can treat a variety of ailments such as bodily aches, excessive blood sugar levels, and more.
Read More:
Amazing Health Benefits of Eating Cucumber at Night
How Morning Drinks Can Help You Get Glowing Skin
ABC Juice; Benefits, Side Effects. Why Is It Called a Miracle Drink
How to Get the Best Out of Mango Benefits for Skin
FAQ
1. How many tulsi leaves should be consumed each day?
Approximately two to three a day.
2. Can a kidney patient eat tulsi leaves?
The kidney can be strengthened by tulsi. When consumed with honey, the juice of tulsi leaves
aids in passing kidney stones through the urine.
3. What is Tulsi tea good for ?
Drinking tulsi tea regularly will help you fight off harmful bacteria and germs in your mouth because tulsi leaves also contain anti-microbial capabilities. Additionally serving as a mouth refresher, tulsi tea can assist in preventing bad breath.
4. Who should not consume Tulsi ?
Holy basil is most likely safe for most individuals, however it should be avoided by those who are expecting, nursing, attempting to get pregnant, have type 2 diabetes, have hypothyroidism, are having surgery, are breastfeeding, or have any of these conditions.
5. Which tulsi is best for health?
According to vastu, a tulsi plant known as Shri-tulsi that has green leaves is the best. This variety of tulsi provides success in life.
6. How Much Tulsi Leaves Ought to Be Consumed Every Day
It is believed that consuming two to three tulsi leaves first thing in the morning can increase its advantages.