Bored with your natural hair color? Chill girl! Try some unique hair colors and add charm to your personality and flaunt the way you wish. Changing hair color not only gives you a makeover but also helps to cover your unwanted grey hair.
Hair colors have become very popular over time and undoubtedly demanding at the current time. But the question is what is the best hair color for women? You can't pick any color randomly that you see on the internet or on your favorite celebrity.
You must be cautious before choosing the best hair color brand. Because it may make you look awful if chosen the wrong one. Make sure you pick the one that goes with your complexion.
Ready to know the best hair colors for women? Keep scrolling and get the perfect option to dye your hair and create magic.
Best Hair Color Brands in India
1. L'Oréal Paris Excellence Crème Dye
Grey hair is always annoying and you just can't get rid of them. But the good news is you can easily cover them by dying with the best hair dye in India. L'Oréal Paris Excellence Crème Dye gives your hair triple care protection. And give your grey hair 100% coverage. What else can you ask for?
Formulated with a Pro-keratine complex this dye strengthens your hair and provides nourishment. The natural dark brown shade of this dye suits the Indian skin perfectly and makes you look charming and attractive.
What we like-
100% grey coverage within 30 minutes.
Available in 4 natural dark brown shades.
Suitable for all hair types
Saloon-like look and shine.
2. Bblunt Salon Secret High Shine Crème Hair Colour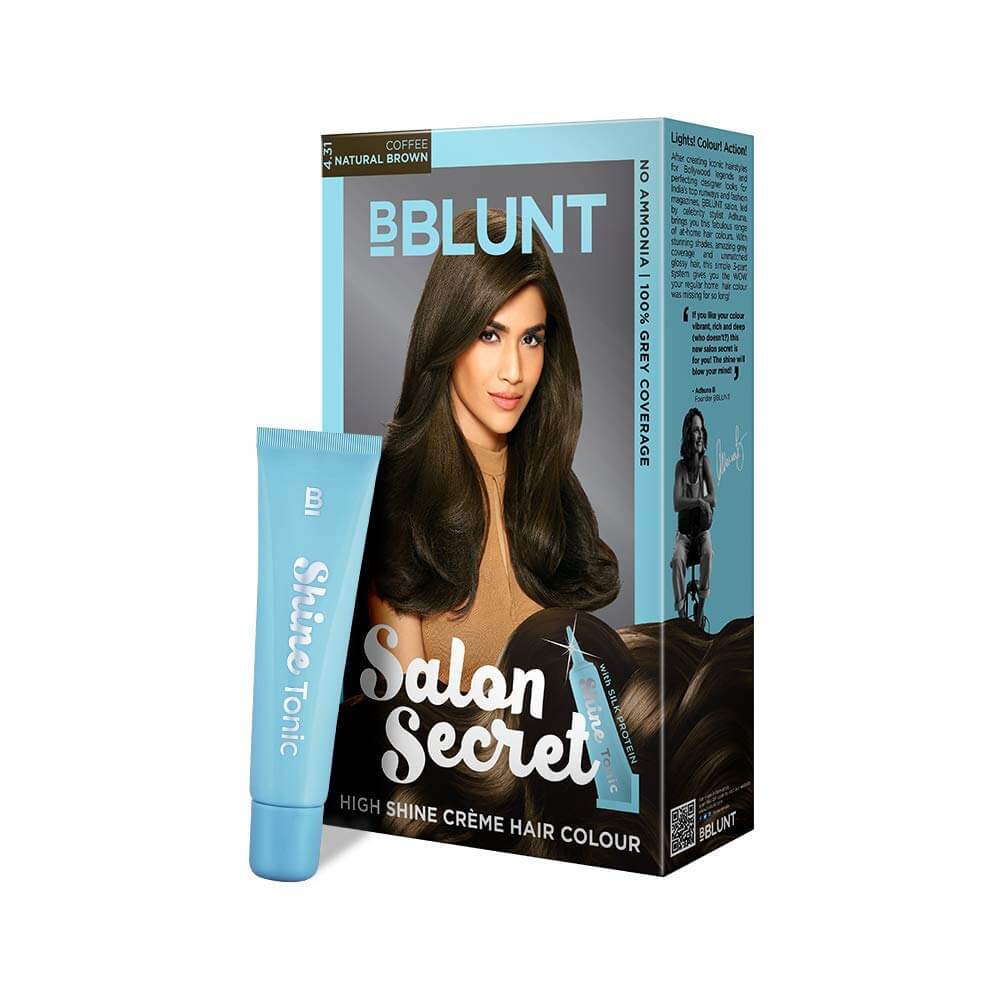 Enriched with silk protein this hair color gives your hair full moisturizer and protects them from damage. One of the best and long-lasting hair color brands in India specially made for Indian hair texture and skin tone. Comes in different shades from natural brown to cherry red which makes it the perfect choice for Indian skin tone. The dark brown shade of this color is the perfect choice for Indian wheatish skin.
What we like-
Ammonia-free and hair color without any strong odors that prevent your hair from damage.
Available in 8 different shades. Such as chocolate dark brown, mahogany reddish brown, blueberry blue-black, wine deep burgundy, honey light golden brown, and cherry red.
Gives grey coverage for upto 8 weeks
3. Indus Valley Natural Gel Hair Color
If you are looking for a natural hair color that has the essence of nature you should get this natural gel hair color in your cart. Natural ingredients like aloe vera, jojoba, and wheat germ oil moisture your hair and make them shiny, adding good volume to the hair.
What we like-
Vegan and chemical-free hair color
Colors your hair within 35 minutes
Made with 90%natural ingredients
Protection from sun damage and pollution
Comes in a Dark brown shade and helps your hair look shiny, smooth, and healthy.
Read More:
7 Best Keratin Treatment Products in India That Are Formaldehyde-Free
Top 5 Least Damaging Hair Bleach Brands
Tired With the Oily Scalp? Here Is the Causes, Remedies and Effects
4. Garnier Color Naturals, Hair Colouring Creme
The caramel brown hair color will make you look stunning with this hair color cream. Use it and get saloon-like hair treatment at home and save your hard-earned money. The Garnier color naturals hair color is enriched with 3 natural oil, olive, almond, and avocado oil which helps in increasing the shine and smoothness of your hair.
What we like-
Best for making your hair look rich, vibrant, and shiny
No ammonia added
100% grey coverage
Suitable for all hair types
Last up to 8 weeks.
5. Revlon Top Speed Hair Color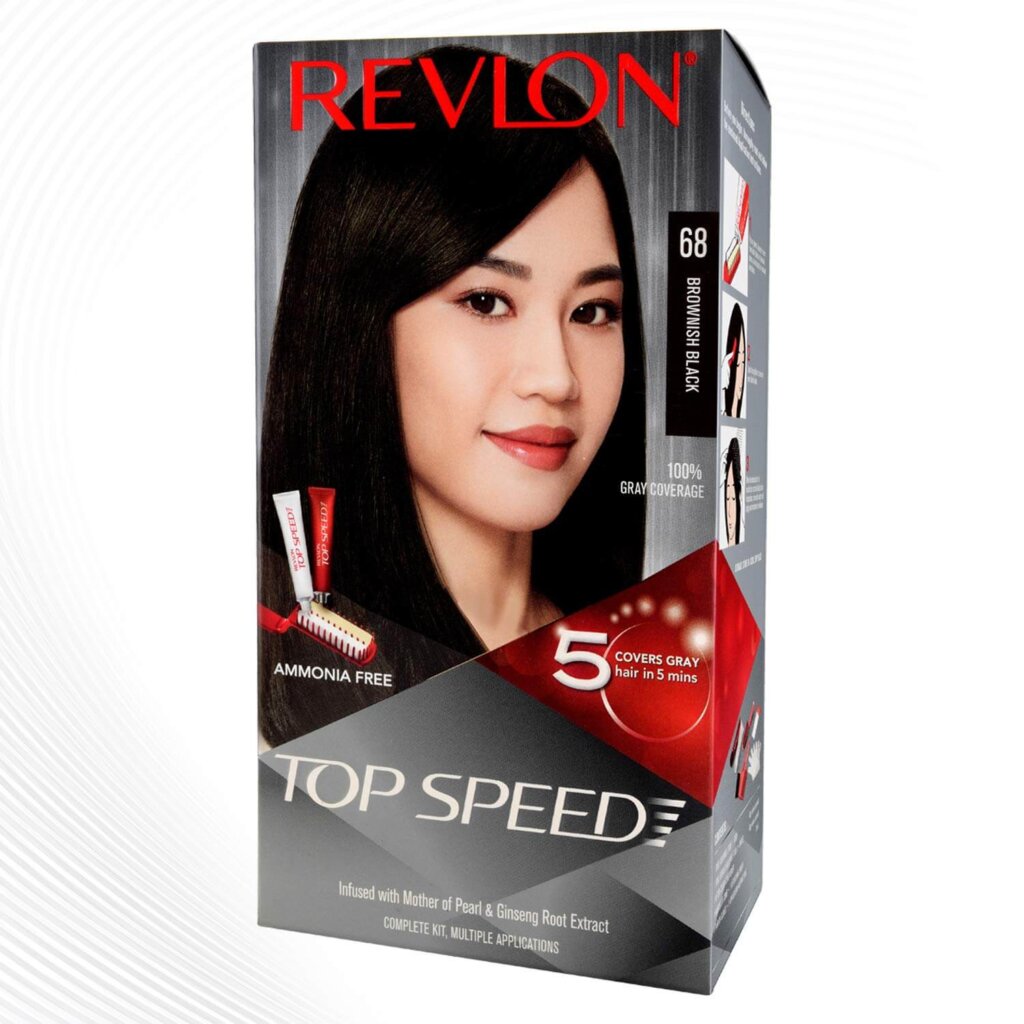 Infused with mother of pearl and ginseng root extract this hair color helps you to get resilient hair. The natural brown color suits every skin tone and gives you a youthful look. Works rapidly and saves your time without any worry. Easy to use and best for full coverage.
What we like-
Time-saver and budget-friendly.
Gives results within 5 minutes.
Available in 8 different shades
Get rid of grey hair
Read More:
Must Check Out These Best Shampoo for Keratin-Treated Hair
Fed up With an Itchy Dry Scalp? Here Is the Causes, Treatments, and Prevention
5 Things You Should Know To Take The Best Care Of Damp Hair
FAQ
Which hair color brand is best for women?
Among so many color brands available in the market it's not easy to choose the one. Though L'Oreal Paris is very popular as it has the best long-lasting results. The color shades also provide moisturizer and deep shine to the hair. It has its own best points.
Which brand is best for hair color?
Wella Illumina permanent cream hair color is a very famous brand in the beauty industry. This brand is available in 36 shades suitable for all hair types. A simple formula to make your hair gentle and smooth.
Which hair color is best and long-lasting for women?
If you are looking for the best and long-lasting hair color for women, choose L'Oreal Paris permanent hair color range. It is ammonia free and gives your hair full grey coverage. This is a best seller hair color brand due to the best quality and good results.
What is the most popular hair color for women?
In the race of different trending hair colors, black color wins the show. According to a survey report black is the most demanding natural color for women. The natural beauty of the black color makes it suitable for all hair types.