You might be quite worried about those sun tan, dandruff, immunity issues, or just craving some cold smoothie after a long day out. But what if you can find solutions for all these problems in your kitchen? Yes, you heard it right. That orangy-yellow fruit with a plethora of black seeds present in your fridge can create wonders in your skin, hair, and health. Here, in this blog, you will get to know about how papaya benefits to skin, hair, and health.
Papaya: The Magic Ingredient
Papaya by its scientific name Carica Papaya got, its origin in Central America and southern Mexico. Known by different names like papaya, omakkaya, pappali, etc., in different parts of India, it is consumed in various forms like ripened, unripened, and cooked. It is considered a source of nutrients and antioxidants. It is rich in vitamins A, B, and C, and the presence of proteolytic enzymes like papain and chymopapain can work wonders on skin, hair, and overall body health. It helps in dissolving dead skin cells and thus makes your skin look more radiant, fresh, and brighter.
Papaya Characteristics
The characteristic properties of Papaya are:
Presence of huge amount of Bioflavonoid: Bioflavonoid, which is popularly called Vitamin P, serves as a natural modifier. It modifies the body's reaction to various allergens, viruses, and carcinogens. This helps to protect yourself from diseases.
High in antioxidants: the presence of antioxidants helps to boost your immunity. It also helps to remove harmful free radicals from your body.
High in vitamins and minerals: It consists of a huge amount of Vitamin -c. It contains more beta-carotene than carrots.
Rich in dietary fiber: It helps in digestion and stimulates the glow of your skin.
Papaya Benefits for Skin
There is a large number of benefits for your skin with papaya. They are:
1. It helps to moisturize your skin:
The enzymes present in papaya help to cure your extremely dry and flaky skin conditions. The inclusion of a papaya face pack in your beauty regime can make your skin look more soft and supply. There are huge benefits to applying papaya on the face. A quick DIY for moisturizing your skin is: to take a slice of papaya and mash it. Add 1 tbsp of the mashed papaya to 1 tbsp of honey. Mix it well and apply it on the face for 30 mins and wash it off.
2. Removes pigmentation
The uneven skin tone on your face might bother you. But you can fix it with an easy Papaya face pack. The alpha-hydroxy acid present in the papaya works as an exfoliator and takes off all the dead skin cells. It makes your skin look clear and increases your skin complexion. Beta-carotene, enzymes, and phytochemicals present in Papaya are a benefit for skin whitening.
Here there is a quick DIY on how to use papaya for skin whitening:
Take ¼ cup of mashed papaya, 1 tbsp of honey, and ½ tbsp of lemon juice. Blend it all together and apply it on areas where you have uneven skin tone and pigmentation. Keep it for 15 mins and wash it off.
3. Reduce wrinkles and promote anti-aging:
The peels of papaya can help you to remove all the signs of aging like fine lines and wrinkles. It restores the elasticity of the skin and keeps it firm and youthful. For attaining spotless skin, rub papaya peel on your skin for 20 mins and wash it off.
4. Clears dark – circles:
Green papaya pulp helps to clear dark circles. The natural bleaching agent works well in this face pack:
Take the pulp of green papaya and mash it. Later rub it on your skin with your fingertips for 10 mins and wash it off. Do this daily for better results.
5. Cures other skin conditions:
It helps to cure other skin conditions like melasma, eczema, and psoriasis. The enzyme called papain removes the dead cells in your skin. Thus removing all the impurities and leaving your skin with no irritation. You can apply mashed papaya on affected areas which will help to reduce itching and reduce. Eating papaya for skin conditions in the form of papaya milk daily can reduce eczema and psoriasis.
Papaya Benefits for Hair
There are several benefits of papaya for hair. They are:
1. It promotes hair growth:
Papaya consists of components like lycopene that promote hair growth. The folic acids present in papaya will give you strong and thick hair. For better results, add papaya to your daily diet.
2. It controls dandruff:
For this issue, papaya seeds will come into action. The papaya seeds are rich in antifungal properties which will help to fight dandruff when used in a hair mask:
Take ½ a papaya with seeds and blend it together. Later apply the pack on your scalp and leave it for 30 mins. Wash it off with a good shampoo.
3. It serves as a conditioner:
As papaya is rich in vitamin -A nutrients, it promotes sebum. Sebum is the natural oil in your scalp. Thus conditions your scalp.
Papaya Benefits For Women's Health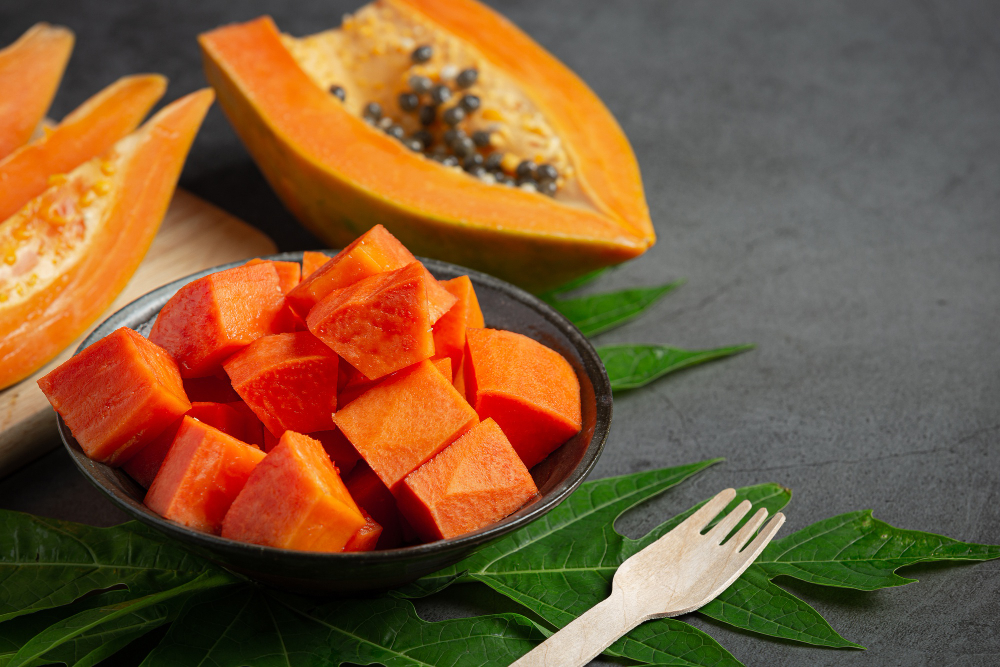 1. It helps to increase lactation:
The galactagogue present in papaya helps to increase breast milk production. Intake of raw papaya can also act as a sedative and helps you to relax while feeding your baby.
2. It is beneficial for the pregnant woman:
Papaya is rich in vitamins A, B, and C, and folate conten. It provides a nourishing experience to the mothers when consumed in moderate quantities. It controls acidity, heartburn, and constipation. Thus promoting the growth of the fetus. You can see many pregnant women consuming tonics made of papaya, honey, and milk.
3. It eases menstrual pain
Period cramps and pain are an intriguing part of every woman's life. To get rid of it you may pop in several painkiller pills. But these can create adversity in the later stage of your period cycle. Consumption of papaya can make your period days more comfy and smooth. It eases the period pain and stimulates estrogen production.
General Health Benefits of Papaya
Improves eye health:
Due to the presence of vitamin -A in an ample amount, it consists of antioxidants that can help you to improve your eye vision.
Aids in Weightloss:
Papaya contains a large amount of fiber and low calories. It can be consumed as a snack instead of sticking to unhealthy munchies. It helps to cleanse and detoxify your body.
Helps to Reduce Stress:
Papaya consists of vitamin – c which helps to restore your energy levels. Several studies had stated that your body requires over 200 mg of vitamin c to regulate the flow of stress hormones. Here a large papaya consists of over 476 mg of vitamin – C.
Beneficial for the ones with diabetes:
Papaya can be an ideal snacking option for those who have diabetes. Because it is low in sugar (only 8.3 grams in a cup of diced papaya) . It is better to consume along with some fat and protein to reduce glycemic response
Read More:
How Morning Drinks Can Help You Get Glowing Skin
All About Dark Neck: Its Causes and How Can You Prevent It Effectively?
Wheatish Skin Complexion: How to Take Care of Your Skin and the Colours That Matches Your Skin
A Brief Guide to 16 Types of Cucumbers
10 Best Ways to Remove Blemishes Naturally
END NOTE
Spotless, clear and glass skin and shiny, thick, long hair is everyone's dream. You all can attain it by following proper skin and hair care routine. But it is not like it can be attained only through spending a handsome amount of money at a dermatologist or opting for a fancy spa. It can also be done by using those ingredients present in your kitchen . one such component that can create wonders is papaya. Its antifungal, anti-bacterial, anti-aging and antioxidant properties can help to improve all your skin, hair, and health condition. So, why wait? Start taking care of your body now!!!!
FAQs
1. Does papaya whiten skin?
Yes, the alpha-hydroxy acid in papaya helps to remove dead skin cells. Thus clearing out uneven skin color and improving your skin complexion.
2. Can I apply papaya on my face daily?
Yes applying a moderate amount of papaya on your face daily is good for your skin.
3. How to use papaya for skin?
Papaya can be used in the form of various face packs for improving your skin texture and complexion. There are various DIY face packs. You can refer to the blog for recipes for face packs.
4. Does papaya clear dark spots?
With the help of an enzyme called papain, the papaya can reduce the dark spots.