Pregnancy may seem long but it will be over in a blink of an eye when your little one is in this world, in front of you, in your lap. Till the time it is not there you can just cherish these moments of having it with you. The glow of your face and the happiness of carrying a life within you can be made a Kodak moment. 
Going out can be a bit tricky for some ladies with a baby bump so, you can make a pregnancy photoshoot at your home. Either hire a photographer or do it yourself. Here are the 11 cool ways for your pregnancy photoshoot. 
Scroll down below to find some of the most amazing and do-it-yourself pregnancy shoots. 
What is the best time for a pregnancy photo shoot? 
The baby bump starts at 28-32 weeks. So, it is the ideal time to go for your pregnancy photoshoot. 
11 Creative & Cool Ways for Pregnancy Photoshoot 
Here are some of the ways you can plan your photoshoot either at home or in the park/field. 
1.Select a Jaw-Dropping setting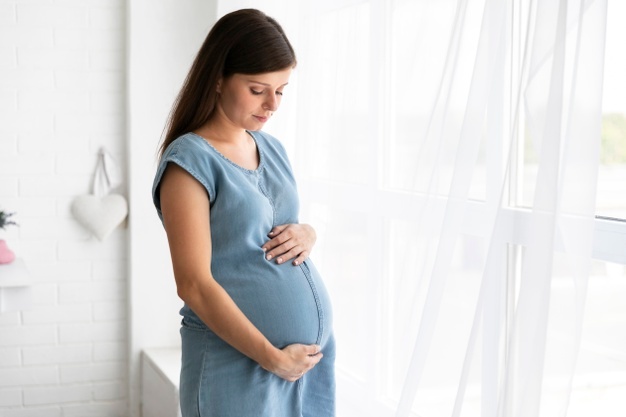 Want to make this kodak moment to be remembered forever? Select a jaw-dropping setting. Think of something unusual that is safe and unique at the same time. The lighting, attire, and other props will be chosen accordingly. 
2.Park/ Field 
Look for a nearby park or field in the area to have a quick and beautiful maternity photoshoot. The early morning sunrise or the late dusk time would be suitable to get the perfect pictures with the light you desire. Shooting in the park would be difficult alone so hire a photographer. He would help you get the best shots for your maternity album. Bonus points if your outfit matches the season. 
For example, if you are choosing your pregnancy photoshoot in summers then wearing something of cool colors, textures would be better. You can opt for loose pregnancy dresses such as a check-boxed maxi dress, a floral dress, or something with light pastel colors. This would make your shoot look stunning.
3.Play with Candids 
You don't have to be still in front of the camera. You can just make random poses to try and test with multiple shots. Candids will make the moment look more natural and subtle. 
4.Some Partner Poses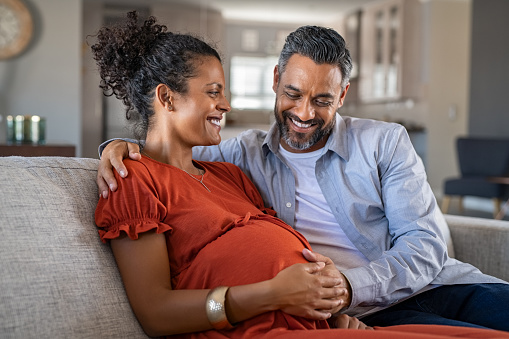 Include your partner too in your pregnancy shoot poses. Try to have some casual fun looking pictures. For example, he listens to your baby's heartbeat by placing an ear on your tummy, or both of you touching the bump and smiling. There are much more maternity partner poses you can try. 
Play with the kind of poses that come to your mind and lock this surreal moment. 
5.Experiment different angles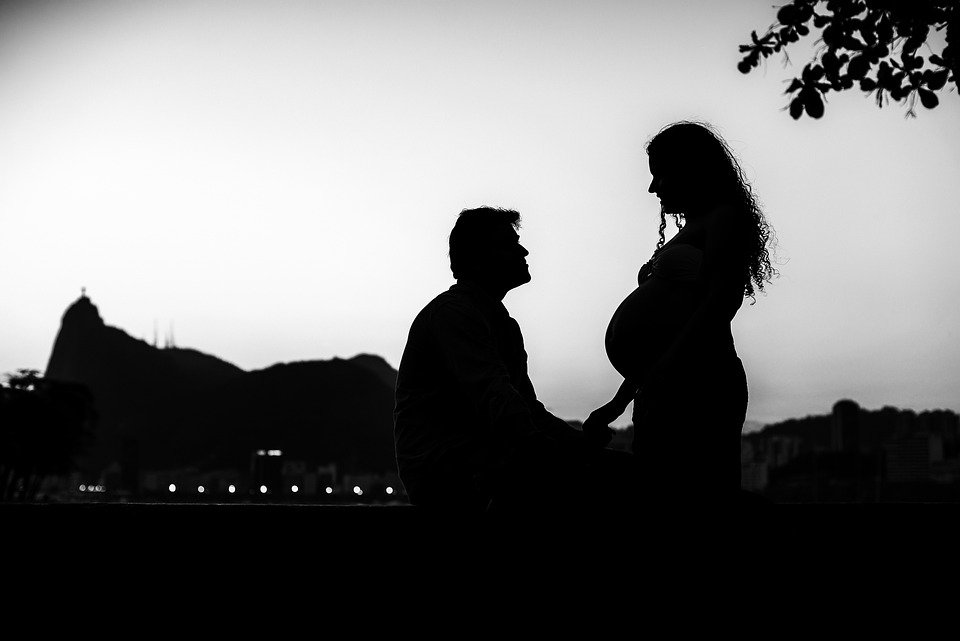 During pregnancy, your bump goes through different stages and timelines. Try to capture all of them through different angles to find the best angle that shows your bump the best. 
6.Enjoy the weather 
You might feel nervous in front of others on open ground. It's natural to have babies and everybody goes through this phase of motherhood. Enjoy the weather you are shooting in. Also, sometimes weather change may happen at the time of the photoshoot. Enjoy the weather. You don't even know what beauty rain or fallen leaves may give to your pregnancy photoshoot. 
7.Family Photoshoot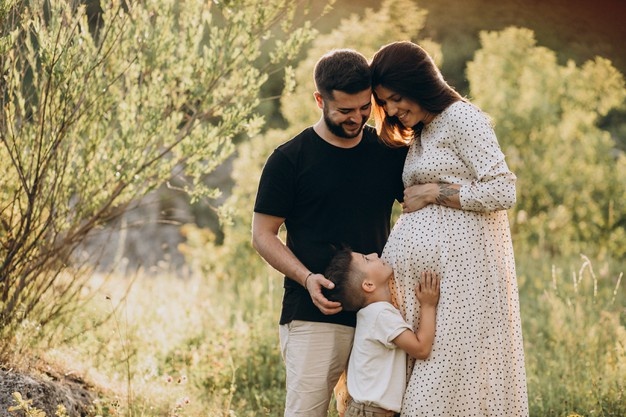 If you are already a mother undergoing re-pregnancy, then you must definitely include your kids in this re-pregnancy photoshoot. They are the ones who are more excited than anybody else. Pose with your kids by sitting near them or playing with them smiling and laughing. 
8.Home Shoots for Emotional Shoots 
If you are looking to add some intimate romantic photos to your pregnancy photoshoot then your home is the best place to do so. The cozy, comfortable setting at home will make it a perfect place to shoot some emotional moments. 
9.Make use of Baby's shoes 
Another way for pregnancy pose is to make baby shoes and place them on a bump. This looks cute and adorable.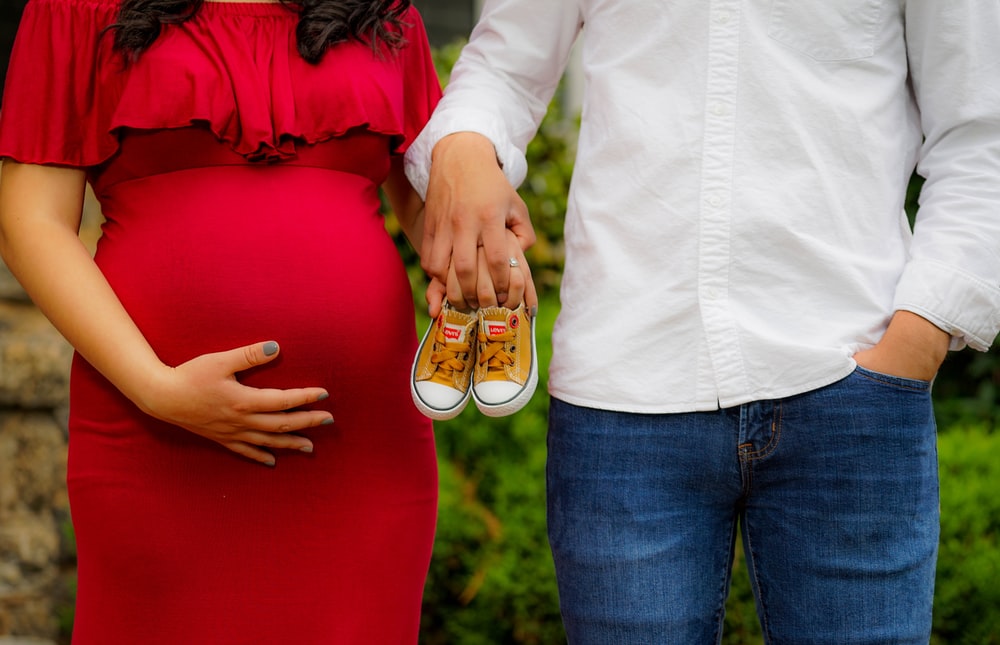 10.Play with florals 
Be the queen mother of the baby prince/ princesses. Add some colors to your pictures by choosing a flower field and adding a floral tiara to your plain pastel-colored pregnancy dress. Won't it make it a classy picture? 
11.Beach Photography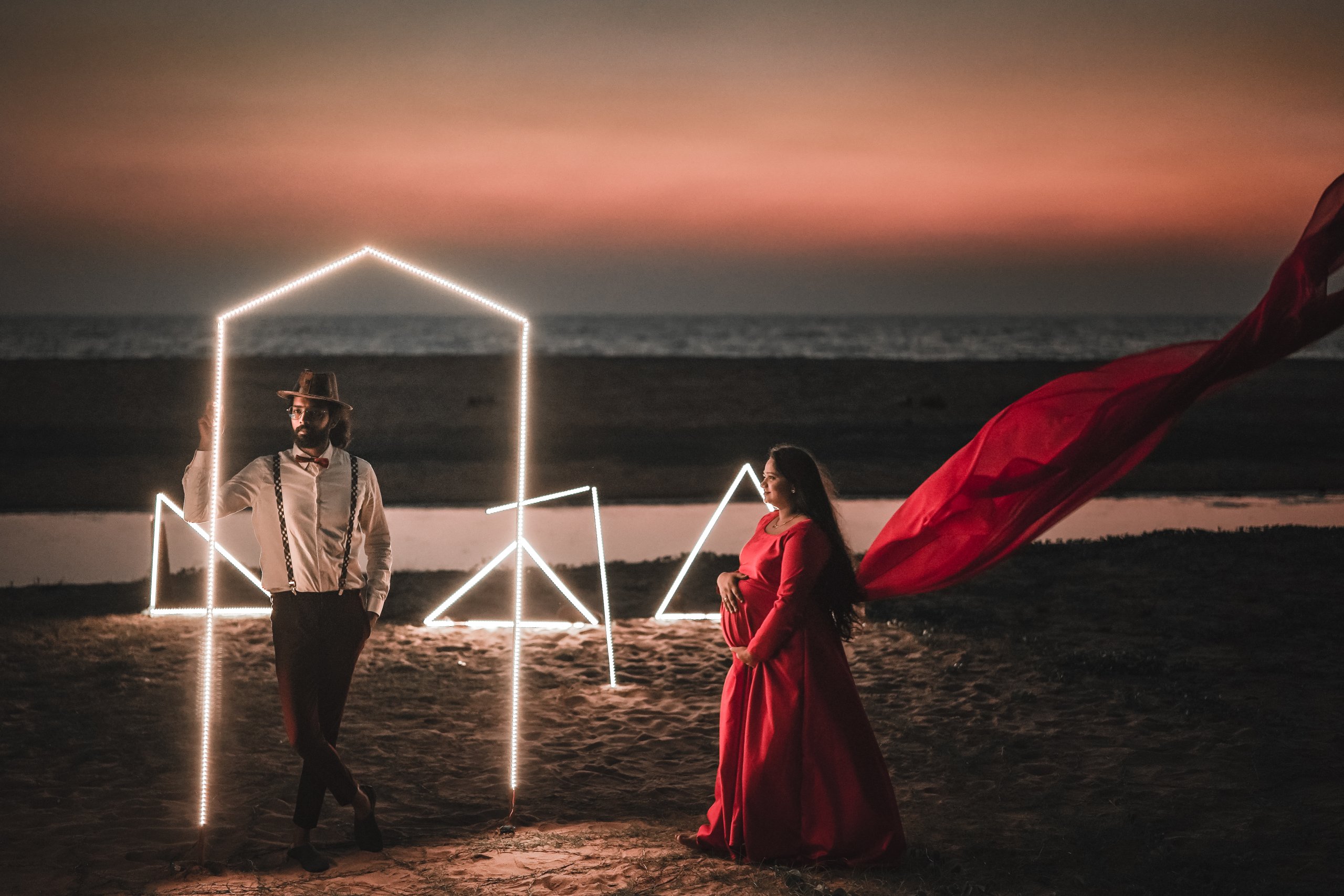 If you live near the beach then there is nothing better than sand, vast stretches of sea, and the waves coming back and forth. It sets a perfect mood and setup for your pregnancy photoshoot. You can make use of all your beach props to make this photoshoot a success. 
Also, take some dark pictures during sunset to have a shadowed picture of you with the bump.
Things to Remember
Pay close attention to lighting, setups, and outfit. 

Be comfortable while posing. 

Try experimenting with different positions and angles.

 

Match your outfits with the surroundings. It will make pictures look absolutely stunning. 

Make use of the props in your house, or outside. 

Have some genuine smiling pictures. 

Include your partner or your kids(if you are going through re-pregnancy). 

Enjoy the process. 
Thus Concluding, 
Pregnancy photoshoots can be tiresome at times due to multiple shoots and locations. Try to be as comfortable as you want. Don't over-exert yourself. Just enjoy the process and cherish those moments of motherhood. 
Happy Shoots!