Are you among the ones who struggle with excess oil and shine? It will be frustrating to deal with oily skin, but the right skincare routine will help you achieve a healthy and balanced complexion. One of the most typical skin problems is oily skin.
The occurrence of oily skin is due to increased sebum production, which then leads to clogged and enlarged pores. To keep oily skin looking and feeling healthy, it is very important to follow a daily skincare routine. This blog will give you the best skincare routine for oily skin. Let's begin the journey!
Best Skin Care Routine for Oily Skin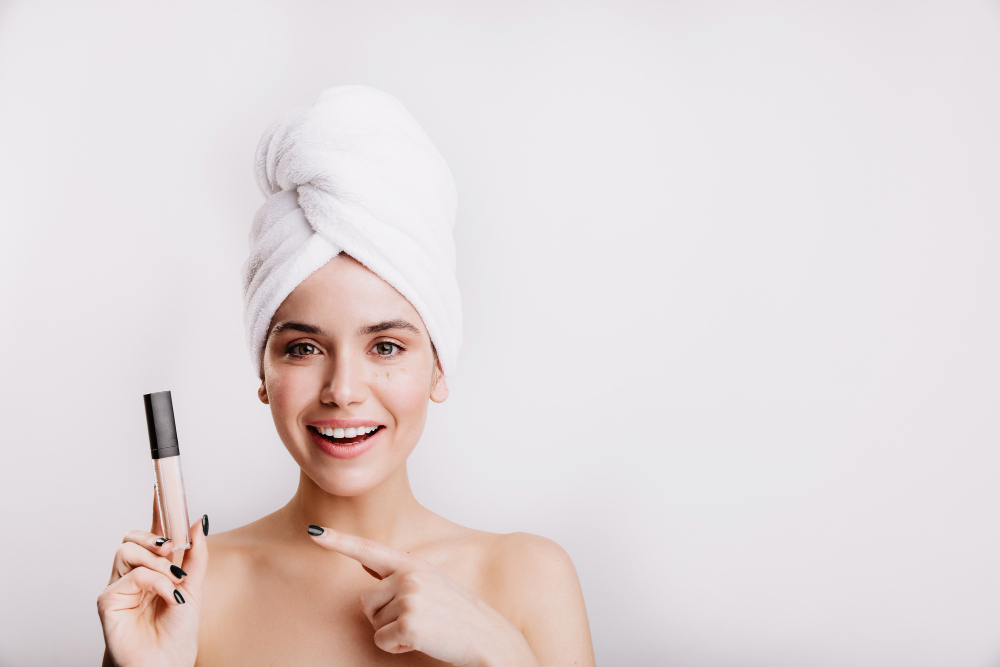 1. Cleansing
One of the most important skincare routines is cleansing. The a.m. and p.m. skincare routines for oily skin include the process of cleansing. Most people wash their faces in the morning and at night. People with oily skin need to have a complete cleanse in the morning. Sometimes you may feel that your skin is very clear, but this is not the case, the skin has been working throughout the night by shedding the skin cells and producing the oils. The chance of breakouts is higher if the dirt and bacteria stay on your face for a long period. Hence, it is necessary to clean your face in the morning, and it is recommended to wash your face with a good exfoliating cleanser both in the morning and evening. Avoid harsh soaps and always prefer gentle face washes that will not strip too much oil from your face. You can use a cleanser that is specially designed for oily skin. A gentle cleanser containing salicylic acid will help you remove sebum from your pores. During the night, the use of cleansers will help you remove dirt, excess oil, SPF, and makeup. You can wash your pillowcase according to the regimen for removing oils, sweat, and debris.
2. Use a Toner
After cleansing, if any last trace of debris is left behind on your face, then the best way is to tone your skin, as it will pick up anything the cleanser leaves behind. The toners will help normalise the pH of your skin and also maintain its smooth texture. Always choose a toner with ingredients that are non-drying in nature.
It is essential to tone your skin in the morning and at night. You can use toners that can absorb excess oil and also prevent acne. You can choose an exfoliating toner that contains salicylic acid, glycolic acid, or lactic acid. It is essential to tone your face in the morning and at night. You can choose the same toner that you use in the morning, which will help absorb excess oil and prevent acne.
3. Treat Your Skin
It is done depending on your specific skin conditions. If your skin is prone to acne, then you should use sulphur or benzoyl peroxide in the daytime to curb the production of oil and prevent breakouts.
The serums are designed to help target specific skin concerns. Serum-containing niacinamide and vitamin C will help you promote a clearer and more even complexion.
Incorporating a clay mask into your skincare routine once or twice a week will help with the deep cleaning of your pores. You can choose formulas containing Kaolin or bentonite clays, which will help absorb the excess oil and mattify the skin's appearance.
Retinol is a component that can be incorporated into your evening skincare routine, as it will help you fight against skin ageing and acne. Retinol is derived from vitamin A. When you start to use the product, start with a very low amount, and then gradually increase the amount as you build tolerance. It is better to use retinol at night, as this ingredient makes your skin more susceptible to sunlight. Studies show that the use of retinol is a great way to reduce oil.
4. Moisturize Your Skin During the Morning and Evening
Moisturizing oily skin is very important. Every skin type needs moisturizer, but in the case of oily skin, you should be careful about the type of moisturiser you are using. It is recommended to use a moisturizer that is oil-free, water-based, free from harsh chemicals or fragrances, non-comedogenic and lightweight. Gel moisturizers are often preferred for oily skin. Moisturizers containing hyaluronic acid, and glycerin will hydrate your skin, and niacinamide will regulate oil production and also even out your skin tone.
The delicate skin that is around the eyes is much thinner than the other areas of your face, making it more susceptible to dryness even though the rest of your skin is oily. You can use lightweight eye cream to provide your eyes with extra TLC.
The eye cream can be applied during the nighttime routine as well.
5. Apply Sun Protection Factor
Irrespective of the kind of skin you have, you should apply sunscreen. You should always apply sunscreen with a sun protection factor of 30 or higher, even on rainy or overcast days. Always make sure that your sunscreens do not contain ingredients like avobenzone, oxyphenones, benzophenones, methoxycinnamate, or para amino benzoic acid (PABA). You can apply a broad-spectrum sunscreen with an ultra-light matte finish.
Final Word
Though you have oily skin, a proper skincare routine will help you control it. Moreover, choosing products for oily skin also needs a little bit of attention. Treating your oily skin with the right products will keep it looking great and feeling healthy.
Read More:
Best Serums for Oily Skin
Wheatish Skin Complexion: How to Take Care of Your Skin and the Colours That Matches Your Skin
Sebum Plugs; Are They a Matter of Concern? How to Get Rid of It?
How to Identify Your Skin Tone? A Complete Guide on Skin Tone and Undertone
Best Salicylic Acid Face Wash
FAQ's
1. What skincare routine is best for oily skin?
The best skincare routine that can be followed for oily skin is to cleanse your skin with an exfoliant cleanser both in the morning and at night. After this procedure, you can use a toner that contains salicylic acid, lactic acid, or glycolic acid. Then you can treat your skin using serums, clay masks, retinol, or benzoyl peroxide, depending on the skin condition. After that, you can moisturize your skin using formulas containing glycerine, hyaluronic acid, or niacinamide. Then you can apply eye cream both in the morning and in the evening. Finally, you can apply sunscreen with SPF 30 or more.
2. What are three tips for oily skin?
When the sebaceous glands produce excess oil, it results in the formation of oily skin. It is not possible to stop oil production as it is a natural process, but proper skin care and being gentle with your skin will help you tackle the problem. The tips for oily skin are
1.Always keep your face clean.
It can be done by washing your face two times a day, i.e., morning and night, with warm water and soap or a soapless facial cleanser. Use oil-free cosmetics and selective moisturizers. Never overwash your face, and always be mindful of what touches your face.
2. Tackle excess oiliness with the use of face masks, blotting pads, and a mild astringent toner. You should consult your medical professional to seek medical help and expert advice.
3. Look after your skin properly.
It can be done by recognising the causes of oily skin, reducing stress levels, having a healthy diet, and using sunscreen with SPF 30 or more.
3. What is the best morning routine for oily skin?
The details include cleansing your skin, using a toner, applying serum, using an oil-free moisturizer, applying eye cream, and then using a sunscreen with SPF 30 or more with an ultra-light matte finish.
4. Is Vitamin C good for oily skin?
Yes, the vitamin C serum is an important component that will help you produce excess oil and then maintain a youthful appearance. It will also help in acne treatment, reducing pore size, improving the appearance of acne scars, improving collagen production, reducing free radical damage, and so on.
5. How can I maintain my oily face?
Some of the following tips are recommended by the dermatologist to help control oily skin.
You should wash your face every morning and evening after the exercise.
Choose skin care products that are "non-comedogenic" and "oil-free".
Always use gentle, foaming face wash.
Never use oil-based or alcohol-based cleansers.
Apply the moisturizers regularly.
Always wear sunscreens when going outdoors.
Always choose water-based oil-free make-up.
Never sleep with your make-up.
Use the blotting papers all day long to absorb oil by gently pressing the paper against your face and leaving it there for a short period.
All day long, avoid touching your face.